Villa sweat on Hutton fitness
Aston Villa right-back Alan Hutton is doubtful for Saturday's encounter with Sunderland because of his facial injury
By Simon Porter
Last Updated: 26/10/11 1:02pm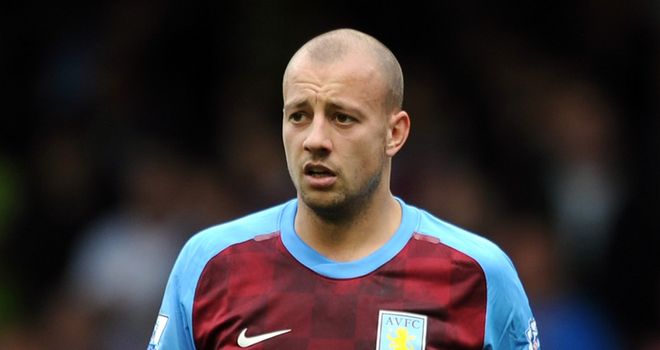 Aston Villa right-back Alan Hutton is finding it hard to regain full fitness for Saturday's encounter with Sunderland because of a facial injury suffered during his team's 2-1 defeat by West Brom.
The ex-Rangers player needed seven stitches after a clash with team-mate Charles N'Zogbia, which occurred just before half-time and forced him to be substituted as a result.
The wound is above his eye and is affecting his vision which means he is doubtful for the match against the Black Cats.
Villa assistant manager Peter Grant is still unsure whether he will start this weekend.
"His eye was closing on Saturday and it is still like that. He is touch and go for the weekend because of where the cut is," said Grant.
"It means he has to be careful with heading. If he gets a knock it could just open up."