Herd relieved by decision
Chris Herd says he is 'over the moon' after the FA's decision to overturn his three-match ban left him free to play this weekend.
Last Updated: 26/10/11 1:31pm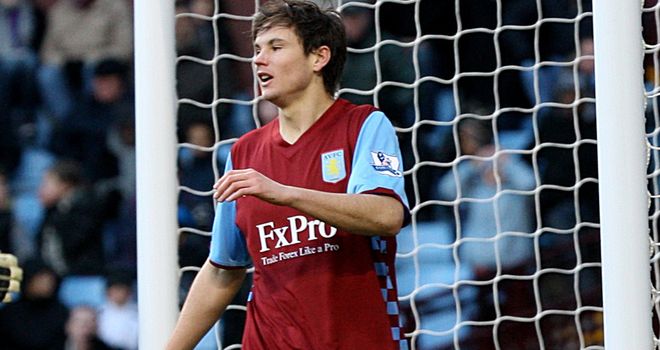 Aston Villa's Chris Herd says he is 'over the moon' after the Football Association's decision to overturn his three-match ban left him free to take on Sunderland this weekend.
Villa won an appeal against wrongful dismissal on Tuesday after Australian utility man Herd was shown a red card by referee Phil Dowd during West Brom's 2-1 win at Villa Park on Saturday.
The 22-year-old had been facing a three-game suspension, but will now be available for the trip to Wearside this weekend, as well as upcoming encounters at Tottenham and against Norwich at home.
After seeing the red card rescinded, Herd has reiterated the tangle with Baggies defender Jonas Olsson which led to the dismissal was not a stamp, as ascertained by Dowd.
"I'm over the moon with the decision from the FA to overturn the sending off," he told the Birmingham Mail. "I'm just pleased to be able to be available for this weekend.
"We got pulled together in the first incident and their player obviously ran into me and shoulder-barged me with his forearm so the referee pulled us and told us to cut it out and all the rest of it.
Tangle
"We went back for the corner and he sort of came in and fell onto me.
"We got tangled up and his body was on mine. His arm was wrapped around my leg.
"So I just tried to get my leg free and get on with it. You can tell from his reaction that there was no malice in it or anything like that so I was quite surprised with the decision."
Villa took the lead on Saturday courtesy of Darren Bent's penalty but Herd's sending off proved crucial as the visitors turned things around against the 10 men.
The Australian admits he was stunned by the red card, adding: "I was shocked.
"Once you've been shown the red card you can't take that away so I just walked off, but I was quite disappointed.
"I think everyone was surprised when you see the replays on the telly. Obviously we just had to look over all the DVDs and come to the decision that we needed to appeal it. Thankfully we've done that and we've got the right outcome."