Amos hails killer instinct
Ben Amos hailed Manchester United's concentration and killer instinct in beating Aldershot in the Carling Cup.
Last Updated: 26/10/11 4:34pm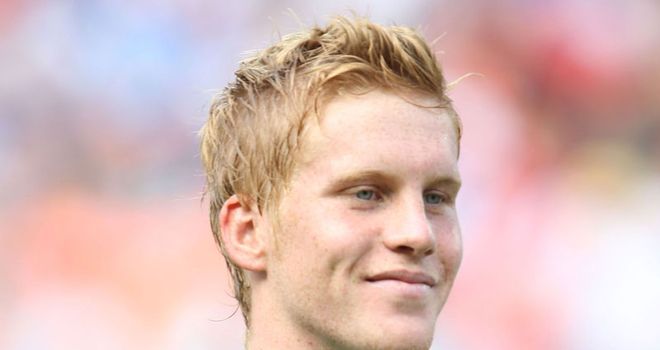 Ben Amos hailed Manchester United's concentration and killer instinct in beating Aldershot 3-0 to reach the Carling Cup quarter-finals.
Sir Alex Ferguson changed his entire starting XI following Sunday's 6-1 derby drubbing by Manchester City and his replacements came up trumps.
Goalkeeper Amos was a mere spectator for the majority of the clash but was made to work late on to keep a clean sheet.
Afterwards, he hailed the concentration of the players and the killer instinct of the team in avoiding a potential upset against League Two opposition.
He told MUTV: "If you're not switched on, these games can go horribly wrong.
"Concentration is vital and you need to be ruthless in the box and put your chances away.
"We wanted to kill them off early doors and we did it with some nice goals."
Plan
While virtually everything that could go wrong did go wrong in United's 6-1 defeat by City, Tuesday night went almost entirely according to plan - as it did in last month's 3-0 victory at Leeds in the previous round.
"Our aim was to control the game at our tempo like we did at Elland Road," Amos said.
"If you give the home team even a bit of encouragement, especially in a tight ground like this, the crowd get behind them and get on your back."
Aldershot twice went close late on to snatching a consolation but Amos produced an excellent save from Luke Gutteridge's free-kick.
"Obviously, it was good to get the save at the end, to show what I can do," Amos said. "But I didn't have a lot to do, just distribution and tidying things up.
"That's one of the biggest things about being a goalkeeper for Manchester United - you can have nothing to do all game and then, when the one thing you need to do comes along, you've got to do it well and keep it out.
"That's my job, to keep a clean sheet and I think everyone's happy."