Rodgers - No Sinclair talks
Swansea City manager Brendan Rodgers insists the club have yet to open contract talks with winger Scott Sinclair.
Last Updated: 26/10/11 6:39pm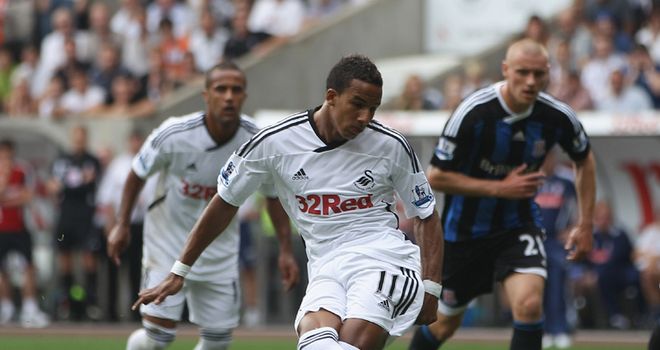 Brendan Rodgers insists Swansea City have yet to start talks with Scott Sinclair, but confirmed the club will eventually look to extend the winger's deal.
The Swansea boss was recently quoted as saying that discussions had been opened with Sinclair regarding a new deal for the former Chelsea youngster.
However, Rodgers has played down those reports and says there is no rush for the Premier League club to sit down and negotiate fresh terms with Sinclair.
"I was led to believe from what I read that we were in talks with Scott over a new contract, but I don't know where that's come from," said Rodgers in the Evening Post.
No concerns
"Scott has 18 months left on his contract and he is a player who is highly thought of here. We talk regularly, and I have got no concerns and Scott has no worries about his contract.
"He is happy where he is both financially and emotionally and we will assess things as we go along as a club.
"Of course in the future we will look to extend Scott's contract. Naturally that's what you look to do with your best players.
"The club is now in a position financially where we can maybe look to sort out a new contract a little bit earlier than we might have done in the past.
"But that is for the future. I am comfortable with where we are at with Scott right now."