Malouda - League the priority
Florent Malouda insists the Premier League is Chelsea's primary concern but aspires to Carling Cup success.
By Matthew Skinns
Last Updated: 27/10/11 4:39pm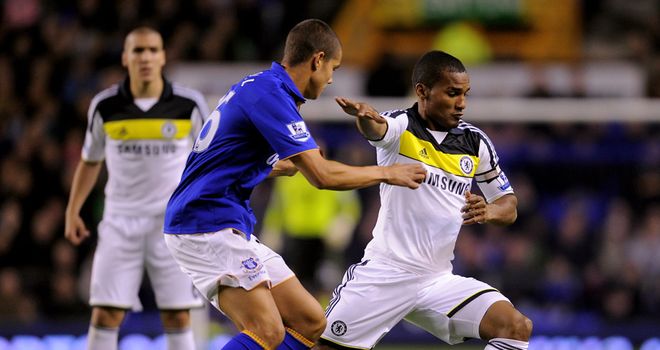 Florent Malouda insists the Premier League continues to take priority but admits a desire to add the Carling Cup to the Chelsea trophy cabinet.
The Blues controversially lost 1-0 to Queens Park Rangers at Loftus Road last Sunday to drop six points behind leaders Manchester City.
However, Malouda believes Wednesday night's victory over Everton in the Carling Cup demonstrated the team's unity and determination to succeed this season.
The Frenchman believes Chelsea must remain consistent to stay in the championship race, highlighting the pivotal importance of this Saturday's clash with Arsenal.
"The League is our priority. You need to start well but also to finish well as well, and we are coming into a period where we play a lot of games and every point is important," he told the club's official website.
"We stay calm and have to play Arsenal this weekend.
"With a win we can expect great things for the rest of the season."
The midfielder claims winning the Carling Cup mid-season would boost the team's confidence in pushing for the league title in the remaining months of the campaign.
"Of course we want to win, we feel if we win a competition in February it can be the start of a great finish for us," he added.
Malouda captained the side in their 2-1 win at Goodison Park in the Carling fourth round, with the 31-year-old's shot parried back to Daniel Sturridge to score the extra-time winner.
"We were moving the ball quickly around the box and I saw a little gap so decided to take my chance, the goalkeeper saved it but Daniel Sturridge had that smell for the goal with a good finish and gave us the victory so we're very happy," he said.
"That's a great feeling when we give everything, run for your team-mates, people come off the bench, Petr Cech coming from the bench and saving a penalty, Sturridge coming and scoring a goal, the spirit is very good and the squad is very strong.
"It shows our ambition.
"We played with 10 men once again but the spirit we showed and the will to win the game is great from the team.
"It's difficult with ten men but we always play to win the games and I think we did a great passing game and in the end created a lot of chances."