Bruce expects Bent backlash
Sunderland boss Steve Bruce expects Darren Bent to get a hostile reception from the home fans upon his first return to the Stadium of Light.
Last Updated: 28/10/11 1:48pm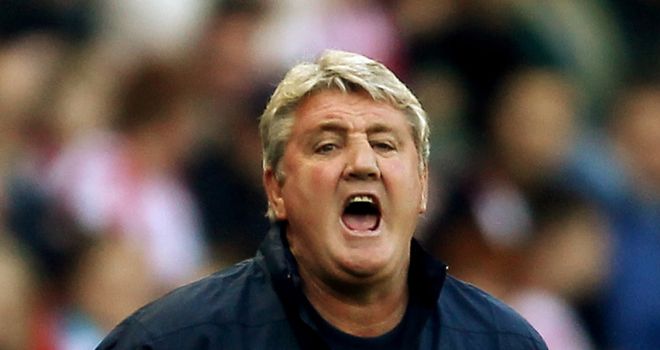 Sunderland boss Steve Bruce expects Darren Bent to get a hostile reception from the home fans at the Stadium of Light on Saturday.
Bent will make his first return to Wearside this week with Aston Villa following his controversial move during last January's transfer window.
Bruce was unhappy with Bent's decision to leave for Villa as he feels he could have become one of Sunderland's all-time greats if he had stayed with the Black Cats.
Asked if expected Bent to get a bad reception from Sunderland fans, Bruce said. "Well that's football isn't it so I think he will be expecting that.
"I think we have to acknowledge what Darren Bent did here too. He was terrific here for 18 months, there's no disputing that and in my opinion he could have been one of the greats if he had stuck around.
"He didn't, it's football, sometimes it happens.
"We were all disappointed with that and we move on.
"The great thing about football is we move on and he moves on and gets on with his career and we get on with winning a football match tomorrow."
Missed
Bruce admits Sunderland have missed Bent's goals at the Stadium of Light, but he believes they have invested the £18million they received from Villa wisely in Ji Dong-won and Connor Wickham.
"There is no disputing of what he has done here so we have missed that," added Bruce.
"All our disappointment was that it ended so quickly. As I said he could have been one of the greats here and unfortunately he didn't want to stick around and that's his prerogative, it's his career and it's a shame but that's the way it ended up.
"Well it's very difficult to replace those goals - that's why Villa paid the money they did and that's why he is playing for England now.
"He is an out-and-out goalscorer and his goalscoring record here was fabulous, but as I said we move on.
"We have invested in Connor and in Ji and of course we got Nicklas Bendtner on loan so we have brought in some good players here and that will always be the case. The football club will always move on.
"Certainly in Ji and in Connor, in particular, we have gone for the future. They are both young lads and both learning their trade and we knew it would take them time to come and adjust.
"Certainly Connor last week [against Bolton] was far better than he was when he made his debut three or four months ago to get used to playing in the Premier League, get used to playing for Sunderland as we must remember he is only 18 years old, but he has got a fabulous future ahead of him."