McArthur - We have to win
Wigan midfielder James McArthur has called on his team to start picking up the points against Fulham this Saturday.
By Simon Porter
Last Updated: 28/10/11 2:07pm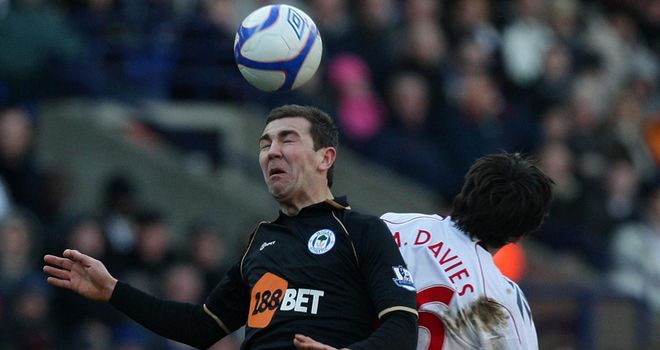 Wigan midfielder James McArthur has called on his team to start picking up the points against Fulham this Saturday.
The Latics are second bottom in the Premier League following a run of six consecutive defeats and McArthur has labelled the visit of Fulham as a 'cup final'.
McArthur has outlined the importance of beating the Cottagers and believes the game has parallels with the dramatic victory over West Ham in the penultimate game of last season which helped to secure the club's top-flight status.
"It's a cup final for us, no doubt about that, and we need to go into the game thinking we have to win no matter what it takes," McArthur told the Evening Post.
"It'll be similar to West Ham last year in that respect. There's no margin for error and nothing less than a win will do.
"Look at the way we finished last season - that's what we need to do again. We desperately need to start picking up points, because we don't want to be stuck in a relegation battle from now until the end of the season.
"The fact of the matter is, looking at the table now, we're in one at the moment, and we will be until we start picking up points. We need to find whatever it takes to get the three points that will hopefully kick us off on a run - whatever it takes."
Struggling
Fulham are yet to win away from home this season, and have achieved only four away victories over their last two seasons, however, McArthur knows that it will not be a walk in the park.
"They're struggling too but they are a good side, we know that," McArthur added.
"Some of their performances this season have been very good, and they'll be coming in with exactly the same frame of mind. They try and get the ball down, as do we, which should make a good game.
"We just need to play exactly the way we played at Newcastle, with the same intensity, but take our chances this time. If we can do that, I'm sure we'll be fine.
"I thought we played really well, we created numerous chances and unfortunately for ourselves we couldn't take any of them. But that's the way it's going right now. Hopefully things will turn for us very soon."
McArthur made a last minute appearance against Newcastle last week but he wants to be much more than a substitute, commenting: "I would like to have played more this season.
"Everybody thinks being a footballer is an easy life, but it's not at all. It's hard not playing when you've trained hard all week, and I need to keep doing that and make it hard for the manager to leave me out."