Ertl close to Blades comeback
Sheffield United's Johannes Ertl is nearing a return to action after almost eight months on the sidelines.
By Chris Galea
Last Updated: 28/10/11 4:48pm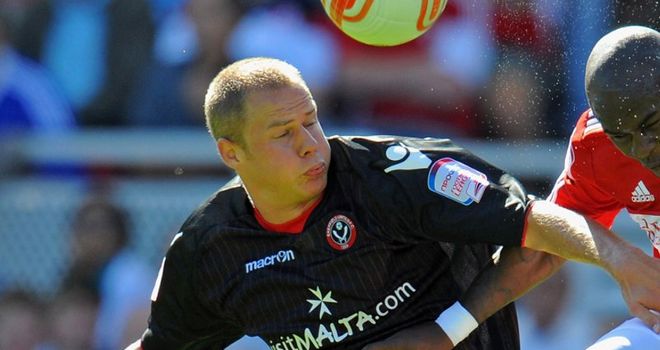 Sheffield United's long-term absentee Johannes Ertl is nearing a return to action after almost eight months on the sidelines.
The Austria international suffered cruciate ligament damage back in March, missing both the end of last year's relegation-ending season and the start of life in League One this term.
However, the 28-year-old is now back in full training and believes that it won't be long till he is ready for a first-team recall.
"I've made huge progress in the past few weeks and it will only be a matter of two to three weeks now until I'm back playing again," he told skysports.com.
"I've done a lot of extra work on the training ground and I feel a lot fitter for it, so I'm just really looking forward to be back available for games and able to help the lads on the pitch.
"I'm back in full contact training with the lads and I'm doing a lot of double sessions to get as fit as soon as possible and after my little break I'm raring to go.
Lonely place
"It can be a lonely place when you are out with a long-term injury, so to be back training with my team-mates has been great.
"There are a lot of ups and downs during a recovery process, but it does make you mentally strong as well because it makes you work hard and appreciate the light that awaits at the end of the tunnel.
"Cruciate ligament injuries are just a minor blip in a player's career nowadays, with seven or eight months out, and it makes you look at things in a different light."
Ertl has been mixing with the fans on his road to recovery and has seen the Blades make an encouraging start to the season as they lie fourth before Saturday's home game against Exeter.
"It has been really interesting for me to watch the games from the stands with the fans and the atmosphere has been amazing," he added.
"I've spoken to some great people that I might never have met if I hadn't picked up the injury, so it has been interesting to experience what the fans do on a regular basis.
"It has also whetted my appetite for playing again and I know that I might have to be patient and wait for my chance because the boys have been playing great stuff, but just to be in contention for a recall will be a huge boost."