Warnock quiet on Ferdinand
Queens Park Rangers boss Neil Warnock has refused to comment on the allegations that Anton Ferdinand was racially abused last weekend.
Last Updated: 29/10/11 11:21am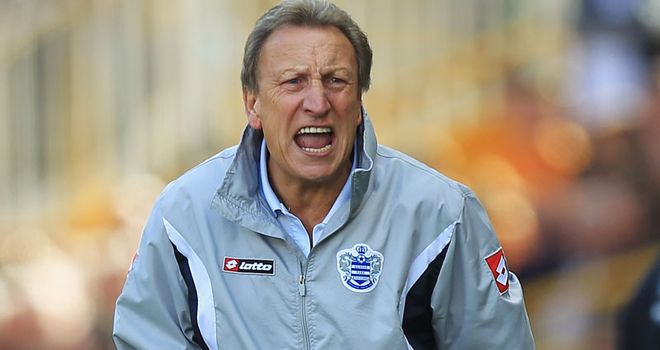 Queens Park Rangers boss Neil Warnock has refused to comment on the allegations that Anton Ferdinand was racially abused last weekend.
Warnock also insisted that the issue had not become a major distraction for the club leading up to this weekend's game with Tottenham.
Video circulated on the internet after QPR's 1-0 defeat of Chelsea last Sunday, with some claiming the footage showed Blues captain Terry insulting Ferdinand using racist language.
Terry has denied any wrongdoing, but the Football Association are investigating the claims, while the Metropolitan Police are also involved after receiving an anonymous complaint.
Despite the ongoing investigations, Warnock insists it has not taken his side off track ahead of Sunday's trip to Tottenham.
"I can honestly say it hasn't really [been distracting] as we just have to focus on Spurs," he said.
"The place has been buzzing as you would expect [after the Chelsea win].
"I don't think teams like QPR win very often against the Chelseas of this world.
"I think somebody said it was over 10 years since a promoted club beat Chelsea.
"We know what kind of achievement it is to beat them even though the circumstances saw them make one or two mistakes on the day.
"That does not take anything away from what I thought was a wonderful occasion for everybody connected with the club.
"A whole new generation of fans that had not even seen Chelsea play, never mind see us beat them.
"It was a great day for the club itself and that is what we strive for.
"I think it was 15 or 16 months ago we were trying to avoid relegation to League One.
"Now we're beating Chelsea in the Premier League and it is almost like a dream for everybody connected.
"I don't think anybody should get carried away just yet.
"We have had some heavy defeats but we don't dwell on the disappointments too long.
"Likewise, I don't think we took the euphoria too long when we do well.
"We have a level-headed group of boys and get straight into the nitty gritty."
Talk
While Warnock was quick to talk about the ramifications of the Chelsea victory, he batted away any Ferdinand-related questions.
QPR issued a blanket ban on questions regarding the allegations at this afternoon's press conference and, when asked how Ferdinand was ahead of the Tottenham match, he said: "He is playing very, very well.
"I think he is probably one of the best centre-backs in the country at the moment.
"I think Anton Ferdinand is a very good player and I am delighted to have him here."
Warnock would not be drawn on the investigation or Chelsea's handling of the incident, but did give his broader opinion on racism in modern football.
"I have not come across much in football over the years," he said. "It used to be very bad, I thought it was very bleak in the 80s coming up to the 90s. I thought that was probably the worst period.
"I think that the Kick It Out campaign and all the other causes are making people aware.
"There are a lot worse countries than England that Fifa, Uefa or whoever it is should get their teeth into because I think there are countries abroad that get away with murder when our lads play there."