Ferdinand finds race row crazy
QPR defender Anton Ferdinand says he finds it crazy to be embroiled in a racism row in this day and age.
Last Updated: 30/10/11 10:24am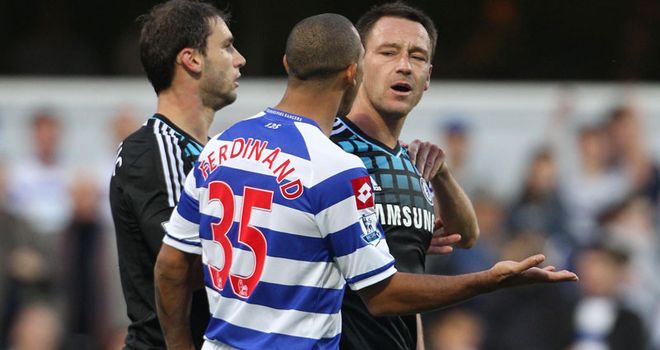 QPR defender Anton Ferdinand says he finds it crazy to be embroiled in a racism row in this day and age.
Chelsea captain John Terry has been accused of making racist remarks to Ferdinand during QPR's 1-0 win over the Blues at Loftus Road last Sunday.
Ferdinand, who claimed he racially abused by German striker Aaron Hunt while playing for England Under-21s in 2006, cannot believe the issue of race is still in the game today.
He told The People: "I didn't know racism still existed in football until last weekend.
"I thought we were past all that here. I had no idea it had happened until I left the ground. It was pretty shocking. It's crazy, I can't believe it."
The FA is investigating the allegations, with the QPR defender adding: "I don't need to say anything, it's all on YouTube, everyone can see what he said.
"What do you think he said? Look, it's with the FA now."
Back in 2006, Ferdinand claimed he was racially abused by Hunt, who was banned for two matches after being found guilty of gross unsporting conduct.
But Hunt denied the racism claims and following an appeal, his suspension was overturned by Uefa.
A year after that row, Ferdinand said: "If they are truly serious about kicking racism out of the game the authorities have to start imposing bigger bans.
"It can't be right an international footballer can call another player a monkey and get away with it.
"We've moved on from the days when bananas were thrown at black players, or they were spat at when they went to take a throw-in, but there is still more to be done."
Fernandes support
Meanwhile, QPR owner Tony Fernandes has given his full support to Ferdinand over the issue.
Fernandes, whose team meet Tottenham on Sunday afternoon, told Radio 5 Live's Sportsweek programme the club have moved on.
"We've drawn a line under the matter," he said. "It's for the FA.
"Anton met the management, we're fully behind him, but we want to focus on the football now.
"It's not for us to throw judgement on the matter. It's in the hands of the correct people. We're fully behind our player.
"I haven't had any direct discussions on this with Anton. He's just thanked us for our support and he's focusing on today's big game. We don't want him to be distracted from the main purpose."
Fernandes does not believe there is a big problem with racism in English football.
"Coming from a foreign country and having watched football for a long, long time, I don't feel very much racism in football," he said. "It's improved tremendously.
"I'm a different colour as well. I feel very comfortable going to every ground, I think fans are focused on much more positive things.
"I'm not saying it's completely cleared up and we must continue to work at it but I think English football should be proud of the achievement it's made."