De Jong defends City slickers
Nigel de Jong has defended Man City's spending, believing it has improved top flight football and caused rivals to up their game.
Last Updated: 30/10/11 7:25pm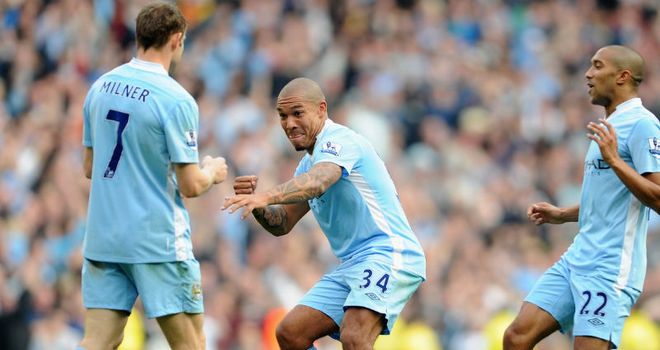 Nigel de Jong has defended Manchester City's massive spending, believing it has improved the level of football in the top flight and caused rivals to up their game.
City have splashed hundreds of millions of pounds assembling their table-topping squad after oil-rich Sheikh Mansour's takeover in 2008.
While some view the Sheikh's investment as bad for the game, De Jong, who joined the City revolution in 2009, disagrees, believing it has caused rivals to up their game.
He told the Sunday Mirror: "You just have to look at Liverpool and Arsenal. They have lost what I call their subscriptions to a place in the top four. They now have severe competition from other clubs.
New signings
"First, it came from Chelsea. Now we are a competitor too. Arsenal and Liverpool are forced to consider making new signings to strengthen their teams.
"They can't survive in the top four with a modest transfer policy or just a couple of ordinary signings.
"There are six or seven teams who can fight for the four top places in the Premier League now.''
De Jong insists the spending is good as the paying public are getting to see a high level of football.
Development project
He added: "If City had not started this development project at Eastlands, the European transfer market would be dead now. We are creating a bigger gap between the bigger and smaller clubs in the league.
"But the big advantage is that the public get to see an incredibly high level of football each week.''
De Jong added he was sold on the club's ambitions when he joined in 2009 and he believes they can push on to become England's champions.
He said: "Everyone thought I was mad (when I joined). Why did I prefer Man City above other clubs?
"But Sheik Mansour's people sold the club and their ambitions very well to me.
"They told me we were going to buy big players and we would be making big steps in a couple of seasons. Everything they said was solid.
"They literally said to me 'within four years, we will have a team that will play for the league title'. And this season is the first year that is happening.
"I really think we can go and become the new champions of England."