Mancini - Johnson has it all
Roberto Mancini insists he 'loves' Adam Johnson and is determined to ensure that the Man City winger continues to improve.
Last Updated: 31/10/11 9:43am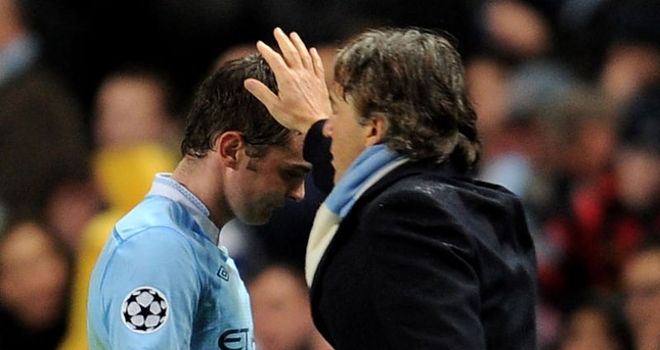 Roberto Mancini insists he 'loves' Adam Johnson and is determined to ensure that the Manchester City winger continues to improve.
Johnson has struggled to command a regular place in City's starting line-up since joining the club from Middlesbrough during the 2010 January transfer window.
The England international has impressed when given the opportunity in the starting line-up, but has often found himself back on the substitutes' bench in the next game.
He was reportedly unhappy last week when Mancini reiterated his plea for the 24-year-old to 'do more' after playing a starring role in the Carling Cup victory over Wolves.
Johnson was back on the bench for the league meeting with Wolves on Saturday, but came on to score in the 3-1 win and Mancini explained why he is do demanding of the wide-man.
Improve
"I'm happy that he is upset," said Mancini. "I'm happy because he can improve. I love Adam.
"It's like with the children in the family. If you love your children then sometimes you should be hard with them and Adam understands.
"If he was not a good player, then I wouldn't waste my time saying this. But I do, because he has everything.
"I don't want him stopping at this level. I want him up a level, then a level more.
"He is our only winger and I think that if he can continue to work hard and to improve his game he can be one of the best wingers in England or Europe.
"He's young. But he can improve every month, every week, every day."
Mancini also revealed that he has discussed Johnson with England coach Fabio Capello and the two Italians share the same view.
He added: "We have the same opinion. We know he is an incredible player but a player like him should play very well every game, like David Silva.
"He should be in the national team all the time."