Ivanovic reveals Blues anger
Branislav Ivanovic has admitted that everyone in the Chelsea team was furious following their defeat at home to Arsenal.
Last Updated: 01/11/11 10:03am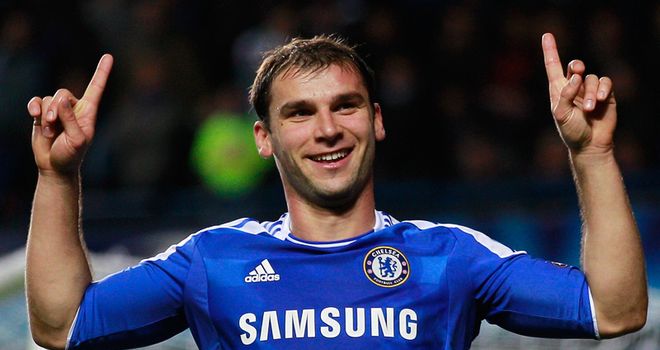 Branislav Ivanovic has admitted that everyone in the Chelsea team was furious following the performance in Saturday's defeat at home to Arsenal.
The Blues produced a desperately poor defensive display over the weekend and the Gunners took full advantage to prevail 5-3 in an extraordinarily open game at Stamford Bridge.
Ivanovic, who partnered captain John Terry in the heart of Chelsea's back four, confirmed the players had already watched a re-run of the game.
"We didn't play like we should," he said.
"It was a tough game and I think there were a lot of reasons for the manager to be angry, but not only the manager.
"The whole team were angry and we have to show a reaction, to show character, and change things in our side for us."
Chelsea have the opportunity to bounce back by beating Genk in the UEFA Champions League on Tuesday, and Ivanovic is confident Saturday's post-match inquest will make a difference.
The Serbian said: "Between us, there's always good communication and good chatting after the game.
"Straight away, we knew where we went wrong."
Strong
The 27-year-old added: "The words don't need to be (explained) because every one of us has to look in the mirror and be honest about how we played defensively.
"We know how we made mistakes and how we plan to do things better.
"We have to be fully concentrated for the whole game and be strong for 90 minutes.
"When you're talking about the defence, you never talk about personal mistakes. In football, that can happen.
"We're talking about our game defensively. The whole team defends, the whole team attacks.
"In some moments, we lost some concentration. We weren't fully concentrated and things happened that we didn't want to happen, and that changed the game psychologically.
"This could be one of the most important things in our season after this game: a great reaction of the group would be good to show how we are strong."
Simple
Some have questioned whether Andre Villas-Boas' attacking philosophy has made Chelsea too open, but Ivanovic does not believe that is the case.
He said: "He hasn't asked us to change something defensively.
"Defence is simple. You have to be better than your opponent, to show more wish to win every tackle in every game.
"Of course we are playing more attacking football, but to lose a game 5-3 at home, it's a defensively poor game."
It was around this time last year Chelsea endured a mid-season slump that ultimately cost them the title.
Ivanovic, who looks set to keep his place against Genk, said: "We're stronger than last year.
"The only thing you can do is keep going and working hard, to do your proper job, to do proper things on the pitch.
"We are ready to prepare for the game tomorrow. This is a very important game for us."