Downing tips Enrique for Spain
Stewart Downing believes it is only just a matter of time before Jose Enrique receives international honours.
By Soriebah Kajue
Last Updated: 02/11/11 12:36pm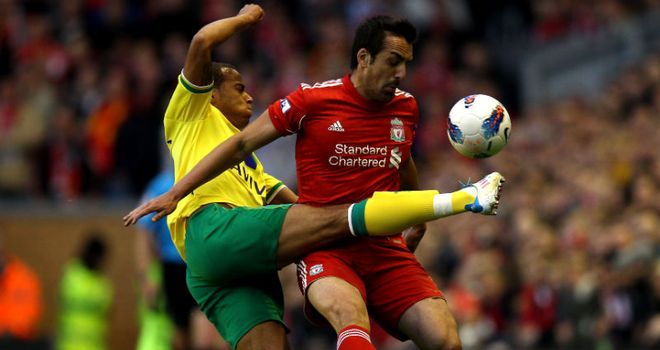 Stewart Downing believes it is only just a matter of time before his Liverpool team-mate Jose Enrique receives international honours.
The 25-year-old has yet to win a cap for Spain, despite the world and European champions' lack of options in the left-back position.
Enrique has made a seamless transition into the Liverpool team since his £5.5million transfer from Newcastle, and has been feted as the best of Kenny Dalglish's summer recruits.
Indeed, as far as Downing is concerned, it will not be long before Enrique joins the list of international players inside the Anfield dressing room.
Talented
England face Spain next Saturday in a friendly game which could mean Enrique faces familiar faces if he does get a call-up.
"Jose is a talented player and has done very well since he's come here," said Downing.
"He must have a great chance of getting in the Spain squad and maybe he will be lining up against England (next week)."
"I enjoy playing alongside him and I think you can see we're gelling as a team."
Enrique, though, is refusing to be side-tracked from his efforts at Liverpool by talk of international recognition.
Attacking
And he wants to maintain the form that has seen him lauded for his attacking full-back play.
"I have always enjoyed attacking. When I was younger playing in Spain, I was more of an attacking player than a defender," Enrique said on the club's official website.
"In England you have to learn to defend because the wingers are the best in the world.
"I have learned a lot about defending here because my football has always been attacking."