Sidwell's challenge was 'horrific'
Roberto Martinez believes that Wigan midfielder Mohamed Diame could have broken his leg when he was caught by Fulham's Steve Sidwell.
By Subhankar Mondal
Last Updated: 02/11/11 9:07pm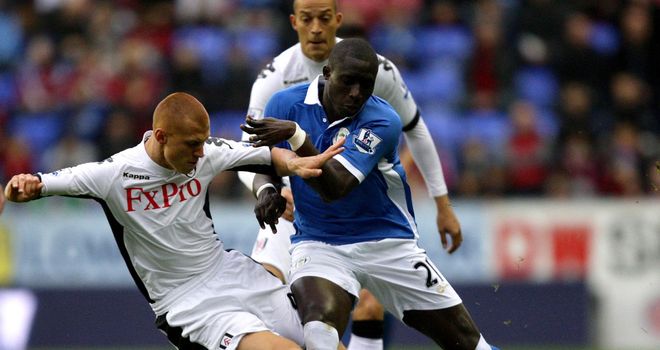 Wigan Athletic manager Roberto Martinez believes that midfielder Mohamed Diame would have broken his leg if his foot had not been off the ground when he was caught by Steve Sidwell during Saturday's 2-0 defeat by Fulham in the Premier League.
Diame only suffered minor ankle ligament damage at the DW Stadium and could even recover his fitness for this weekend's crucial encounter with Wolverhampton Wanderers at Molineux.
Martinez is understandably pleased with the news but has described Sidwell's challenge as "horrific".
"We have been very lucky," said the Spaniard. "It was a horrific challenge.
"We have seen it a few times. At the moment of contact his leg is off the ground.
"If it had been on the ground, it would have been a break. Thankfully, he has only damaged his ligaments."
"I don't think it is going to be too long (before he recovers)," he added.
"We will see how he develops over the next 48 hours.
"Momo suffered two very tough tackles in 45 seconds and received no protection at all.
"I still have hope for Sunday but mainly, we are just glad it is not serious."
Wigan are currently at the foot of the Premier League table with just five points from 10 matches.