Monk out to banish Reds demons
Swansea captain Garry Monk has a score to settle at Liverpool after suffering the biggest humiliation of his career on Merseyside.
Last Updated: 03/11/11 10:09am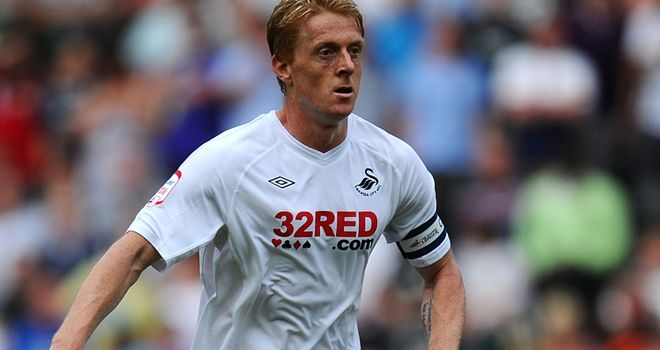 Swansea captain Garry Monk has a score to settle against Liverpool this weekend after suffering the biggest humiliation of his career so far at Anfield.
The promoted Swans face the Reds on Saturday almost 13 years after Monk endured a 7-1 Premier League embarrassment on Merseyside as a teenager with Southampton.
The 32-year-old centre-back says that heavy defeat has provided motivation throughout his career and claims he has no fear returning to the North West.
Monk told the Daily Star: "I was a 19-year-old and we lost 7-1 against a team containing Michael Owen and Robbie Fowler.
"Since that day, every single time I play I remind myself in the dressing room before the game of what happened that day. I do it so I can avoid it ever happening again.
"It left a mark on me and has been a motivation. I don't ever want to feel embarrassed coming off the pitch like I did that day. It was an awful feeling and we were very poor.
Memories
"I was only 19 and I didn't play very well either. Thankfully it has never happened to me again, but I want to put those memories right.
"We go into every game looking for a win and it will be no different at Anfield - we fear no one and hopefully we can grow even further and get a result."
Swansea boast a strong home record this season but are yet to win away from the Liberty Stadium, having thrown away a two-goal advantage at Wolves in their last road game.
However, Monk was boosted by their 3-1 home win over Bolton last time out, adding: "We should have won at Wolves, when we deserved to take all three points, but we were good value for our win over Bolton.
"We have a good home record, but we've yet to win away. These are the games you get promoted for and we don't want to go (to Liverpool) and not perform."