Ba - I don't need No.9 shirt
Demba Ba insists he does need to wear the iconic Newcastle number nine shirt to score goals for the club.
Last Updated: 05/11/11 12:13pm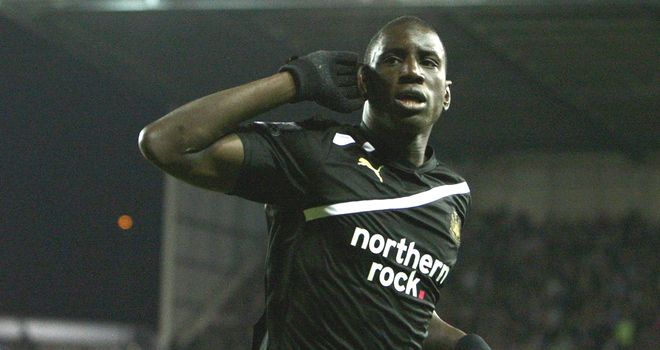 Demba Ba insists he does need to wear the iconic Newcastle number nine shirt to score goals for the Premier League surprise package.
Senegal striker Ba has already bagged eight goals, including two hat-tricks, to help Alan Pardew's side sit pretty in third place.
A huge tradition surrounds the black-and-white centre-forward shirt on Tyneside with the likes of Jackie Milburn and Alan Shearer having worn the number with distinction.
Pardew admits he is unsure whether Ba would have replicated his blistering start under the pressure of following in their footsteps.
Ba, a free summer transfer from relegated West Ham, understands the meaning of the shirt to supporters but shrugged off talk of any additional pressure.
Decision
He said: "It is just a number. Just because you have the number nine shirt doesn't mean you will score goals.
"The number does not score you goals. That is down to you and your feet.
"I am quite happy with the number I have got now."
But Pardew added: "I don't know if Demba would have had the start he's had with all the pressure of the number nine shirt here.
"It was a conscious decision not to use it at the start of the season.
"If I'd elevated one of our strikers to the number nine that would have meant he was definitely going to be 'the man'.
"I don't think that would have been fair on anybody."
Partnership
Ba's fellow striker Leon Best feels he is another to have benefited from Pardew's decision.
The Republic of Ireland striker has scored three goals and, importantly, quickly struck up a formidable partnership with leading scorer Ba.
It is a remarkable turnaround for Nottingham-born Best, who realises life could have been very different after a tough upbringing.
He said: "Coming from the area I was brought up in, I could have gone down the wrong road as a kid.
"I had teachers shouting in my face saying that I wouldn't do anything with my life, how I would end up in prison.
"From then I knew what I wanted to achieve and even to this day, when I see them they say they are happy for me now.
"I am so grateful for the chance I have been given."