O'Hara - We must beat Wigan
Jamie O'Hara wants Wolves to bounce back to winning ways when they face Wigan on Sunday.
By William Esler
Last Updated: 06/11/11 10:21am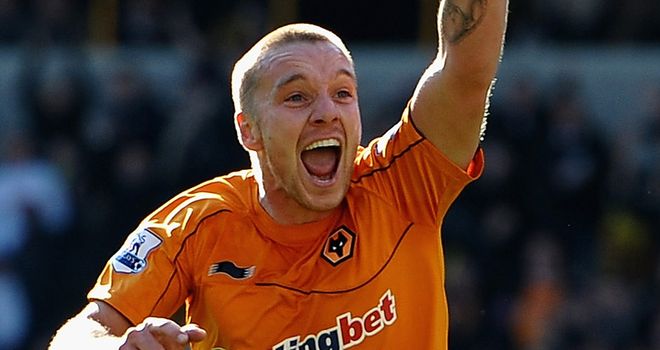 Jamie O'Hara wants Wolves to bounce back to winning ways when they face Wigan on Sunday.
Wolves have failed to win any of their last eight league games, but Wigan have lost their last seven.
Both sides narrowly avoided relegation last season and this weekend's bottom-of-the-table clash could prove crucial next May.
O'Hara told the Daily Express: "Five successive league games getting beaten. I can't remember when I've done that before. It affects everything about you. I was taking it home with me.
"It's something I don't normally do. My fiance was on at me about it. I was just coming home, didn't want to go out and see anyone.
"I always try to leave it at the front door. I've got two kids so they give me a smile whatever - but not this, not five straight defeats.
"The other players, we were talking about it and said they had been the same. My fiance, she said she had to sort it."
O'Hara's 86th-minute equaliser in Wolves' comeback against Swansea in October gave them their only point since August.
Highlight
O'Hara added: "I've played in two cup finals (the League Cup with Tottenham and the FA Cup with Portsmouth) and I don't think at the end of my career I will be looking back on Wolves v Wigan as an overall highlight.
"But, right now, it is very important.
"We aren't doomed. Back-to-back wins and we can be scrapping away with ten other clubs for a mid-table finish. The blow to your confidence definitely hits you. We have to stick together to get out of it and then we can grow as a team.
"Ten games in and this is massive. Our home form has been awful and we need to up it.
"We are not going to smash Wigan 5-0 on Sunday. But if we go one down, the last thing we need is the fans on our backs.
"But I relish the pressure, the big games. You can see it affects the team, though, with the confidence.
Captain
"I'd love to captain this club one day, that would be an honour. I can dig people out or have a moan, that's part of being a leader; you've got to take the rough with the smooth.
"I feel part of the team, part of the club; it's my home and I want it to be that way for a long time.
"My family are massive football fans and with the lifestyle I'm living, I can still relate to them.
"I support my country, I wear my heart on my sleeve anyway and I've never been the sort to shy away from a battle.
"I can understand how people think that (rich footballers do not care about the sport), but footballers don't get to where they get to without caring about the game, the team, caring about themselves."