Crouch - No excuses at Bolton
Peter Crouch says Stoke's hectic schedule will be no excuse for a poor performance against Bolton on Sunday.
By William Esler
Last Updated: 05/11/11 3:05pm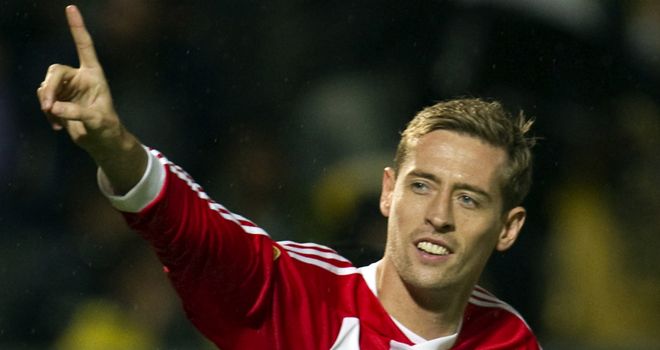 Peter Crouch says Stoke's hectic schedule will be no excuse for a poor performance against Bolton on Sunday.
The clash at the Reebok Stadium will be the Potters' third match in less than a week. They have already played Newcastle on Monday in the Premier League and Maccabi Tel Aviv on Thursday in the Europa League.
Stoke enjoyed another successful night in Europe winning 2-1 to qualify for the knockout stages. But their league form following Europa League games currently reads played three, lost three.
Crouch, though, is confident that his new team can balance the demands of a European campaign and the Premier League.
He said: "I don't think there's any reason why we can't do well in Europe and keep up our league form, although it does mean you are playing one hell of a lot of games.
"We've got a good squad now, we have fresh faces to bring in and can change things around.
"We have good players on the bench these days, which is a sign of how far the club has come. So we've got no excuse when we go to play Bolton."
Crouch scored just three minutes after coming off the bench on Thursday to take his tally of goals in European competition to 21. He has also scored 22 goals in 42 games for England demonstrating the 30-year-olds prowess on the continental and international stage.
Record
He added: "I'm very proud of my European record and my England goals. I always seem to do well on foreign grounds.
"I don't know what it is because people see me on TV so the way I play isn't going to be a shock to them. But I certainly do enjoy playing in European games and long may it continue.
"I was just pleased to get the goal and I thought we won it quite comfortably all in all. It goes someway to getting over the disappointment of the way we played against Newcastle.
"We have come to Israel against a side who don't lose many at home and picked up a really good result. This was important because if we had lost we may have gone into the Bolton game a little bit down.
"We've got to take confidence from that and hopefully be firing on all cylinders on Sunday."
Threat
Bolton head into Sunday's game looking to avoid a ninth defeat in ten Premier League outings. But Crouch remains wary of the threat Owen Coyle's team possess.
He said: "What's happened to Bolton this season is a bit of a strange one. They looked really a really good side last season.
"They might be suffering a little because they have lost a few games but I still think they have got enough quality to pick up. They've got a good manager there and I'm sure they will get out of trouble.
"People say it is a good time to catch them but it can work the other way. I think they will be coming at us right from the final whistle.
"If we can limit them, play our own game and maybe go one up, then hopefully that will make it difficult for them."