Vidic defends Ferdinand
Man United's Nemanja Vidic has jumped to the defence of team-mate Rio Ferdinand, stating he is still the man for the big games.
Last Updated: 07/11/11 8:46am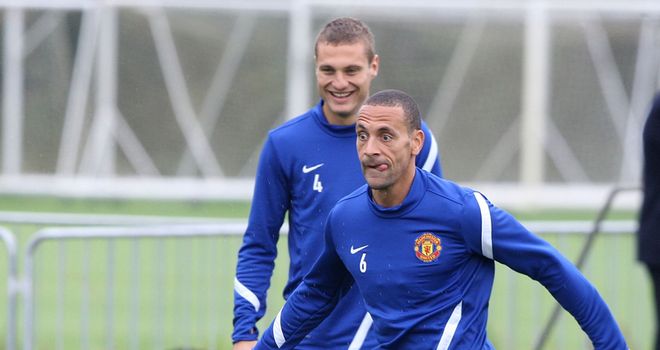 Manchester United defender Nemanja Vidic has jumped to the defence of team-mate Rio Ferdinand, stating he is still the man for the big games.
Ferdinand has come under fire this season and he was singled out for his display in the Red Devils' 6-1 humiliation at home to Manchester City.
The 33-year-old is at the back end of his career and manager Sir Alex Ferguson recently stated the stopper needed to adapt his game as he has lost some of his pace.
Vidic is surprised by the criticism after playing a key role for the club over the past few years, while he insists Ferdinand's display in their 1-0 win over Sunderland was 'classy'.
Not finished
"When you look at what is happening to Rio over the last few weeks, this is a player who played in most of the big games last season, helped us win the Premier League title and reach the Champions League final and yet, after one game, people are saying he is not good enough anymore," said Vidic.
"I think this is wrong and Rio showed that (against Sunderland). He showed class, he showed determination, as well as his ability to help the players around him.
"Sometimes, when you have been at the top a long time like Rio has, people judge you on your age. They are waiting for one bad game to say he is finished.
"What he did (on Saturday) is the perfect way to show he is not finished. He showed strength of character. He showed everyone that he still has the quality and ability to play at the top level."
Important
United have now kept four consecutive clean sheets in the wake of their Man City drubbing and Vidic insists that game gave everyone at the club a wake-up call.
"It was important we got the win (against Sunderland) because it was a special occasion for the manager, but sometimes these games can go wrong, especially after the last two weeks when there has been a lot of tension following the derby," he continued.
"After the City game, we realised we had to play as a team and we had to defend better. I think we have done that in the last four games.
"We take a lot of satisfaction from the fact we have won all four games but, if you look at the performances, we can definitely do better.
"You can't play great football, nice football, going forward all the time, because that allows teams to create chances. You have to find a balance.
"It is important to show solidity, to work hard as a team, and to keep clean sheets. This is the way that you win league titles and go a long way in the Champions League.
"But while we are trying to find that balance, the most important thing is to keep winning games."