Robson ready for last shot
Barry Robson is determined to hang onto his Scotland spot and help his country qualify for the 2014 World Cup.
Last Updated: 07/11/11 4:20pm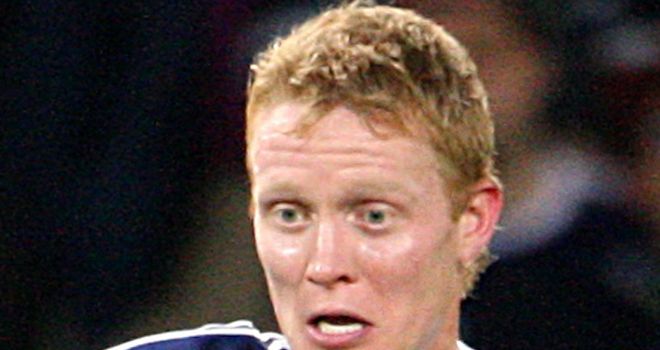 Barry Robson is determined to hang onto his Scotland spot and help his country qualify for the 2014 World Cup.
At the age of 33, the Middlesbrough midfielder is the oldest member of Craig Levein's latest squad.
Robson concedes that the clock is ticking on his international career, with younger competition emerging all of the time, but he has no plans to step aside.
The former Celtic man believes he is capable of nailing down a starting berth and realising his dream of turning out at a major tournament - with the 2014 World Cup in Brazil likely to represent his last chance to appear on the biggest stage in football.
"It could be my last chance - it probably will be because I am getting older," he said.
"But we have some other older boys in the squad and you need a balance between the older heads (and the younger ones).
"I still feel fit and fresh and I am looking forward to the campaign coming. It is only 10 months away and it is an exciting time.
"It is good to see the younger kids coming through and see how buoyant and excited they are, they bring a freshness to it all.
Hungry
"But I think I am even hungrier. As you get older you want to stay there and you want to prove yourself and want to prove that the young upstarts are not as good as a lot of the old ones.
"So it's great for me and the other older players to see the other young boys coming through, it just drives you on even more."
National coach Craig Levein believes a lack of game time ultimately cost Scotland in their Euro 2012 qualifying campaign, and to that end he is looking to take in four friendlies before the World Cup qualifiers get underway.
"I think it was a big problem for us," added Robson.
"You saw the squad and team getting stronger (as the campaign wore on) and the manager must take a lot of credit for that.
"We are in a wee bit of a transition at the moment. We are now building towards a World Cup campaign next year and the more chances we get to get together the better it is for everyone. We want to get everyone thinking and feeling the same way.
"Obviously we would rather be in the (Euro 2012) play-offs but we need to move on now and we have to be positive.
"As I said, we have a lot of young kids coming through and they are going to make a difference."