Prandelli hopeful on Cassano
Cesare Prandelli is hopeful he will have the services of Antonio Cassano during Italy's Euro 2012 campaign next summer.
By Nadia Carminati
Last Updated: 07/11/11 5:35pm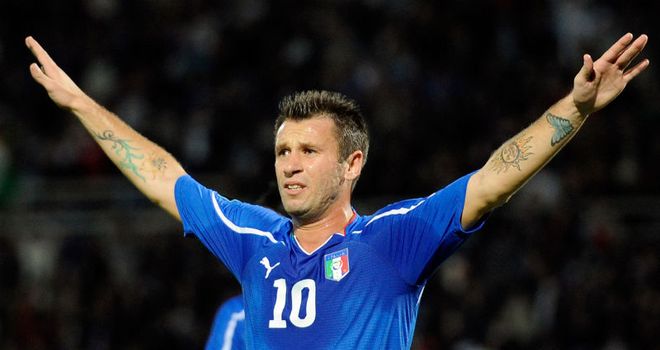 Italy coach Cesare Prandelli is hopeful that he will have the services of forward Antonio Cassano during his side's Euro 2012 campaign next summer.
Cassano suffered an ischemic stroke last month and underwent a minor heart surgery last week.
The AC Milan forward is expected to remain on the sidelines for the next four to six months and there have been suggestions that Prandelli could be forced to leave him out his squad for the European Championship in Poland and Ukraine next summer.
However, the Italian tactician insists that he will keep the door open for the 29-year-old and wishes his compatriot a swift recovery.
"We will always feel Cassano's absence and we want him back," said Prandelli. "The most important thing is that we will wait for him.
"When he returns to action for the team, we will be there. We will follow his recovery. We wish to have him ready for the European Championships."