Pienaar feeling depressed
Steven Pienaar admits he is depressed at not being able to play a part in Tottenham's Premier League campaign this season.
By William Esler
Last Updated: 08/11/11 7:05pm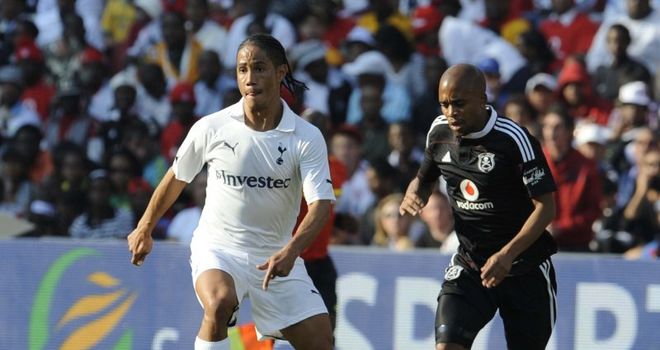 Steven Pienaar admits he is depressed at not being able to play a part in Tottenham's Premier League campaign this season.
Spurs have been enjoying a fine run of form and Pienaar admits that breaking into a team playing so well will be difficult.
The 29-year-old has been blighted by injury since moving to White Hart Lane in January and has been limited to just one appearance this season, in the Europa League last Thursday.
However the South Africa midfielder is determined to prove his worth.
He said: "It's depressing. The team is playing well and getting results, which is satisfying.
"But if you're not playing you don't have a hand in helping the team and as a player you always want to be part of a team that's doing well.
"If you're not part of it, it's like getting your money without doing anything. But I will definitely get my chance. There are a lot of games this season and you just have to be patient.
Perform
"There's no way the team will perform at this level for the whole season. You just have to wait. You don't wish anyone to get injured, so I'll just have to wait for my chance and I believe it will come.
"The coaching staff have told me I have to get fit, that I've been unlucky with injuries. They believe in me and I believe in myself.
"The guys are in good form and we're on a good run. When you're injured you have to keep fighting and working hard and be patient.
"When your opportunity does come you have to prove yourself again and make sure you hold onto your place."
Pienaar is contracted at Spurs until June 2015 and has no intention of leaving the club.
He added: "In January I signed a four-and-half-year contract. If it's not working out this season I'll just have to wait until next season.
"That's part and parcel of football. You just have to keep on going and don't give up."
Points
Seven wins in eight matches have powered Spurs into fifth and level on points with Chelsea and Pienaar is convinced they can finish in the UEFA Champions League places.
"The way we're going we can definitely finish in the top four. It's going to be a season with a surprise in it. We're only one point off Man United if we win our game in hand.
"It depends how the team is playing, but we can even finish close to Manchester City."
Spurs are currently three points ahead of Arsenal and the South Africa international would love to secure North London bragging rights.
"We don't speak about it, but of course you want to finish above your neighbours. It's a good feeling.
"Hopefully the way things are going we should finish above them. Then it will feel good walking around North London."