Favre warns Reus against exit
Lucien Favre feels next season is too soon for Monchengladbach's Marco Reus to join a high-profile club such as Arsenal or Bayern.
Last Updated: 09/11/11 10:38am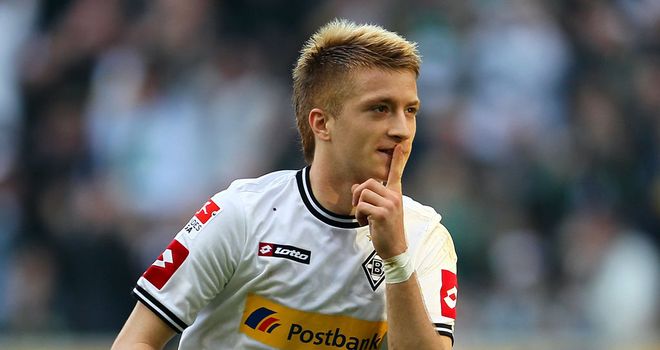 Coach Lucien Favre believes next season is too soon for Borussia Monchengladbach youngster Marco Reus to join a high-profile club such as Arsenal or Bayern Munich.
The Germany international, who will miss his country's clash with the Ukraine on Friday due to a stomach bug, has been strongly linked with a move to a bigger side next season after breaking onto the international scene.
Arsenal have the 22-year-old midfielder on their radar, while Bundesliga rivals Bayern are also thought to be chasing his signature.
However, Favre believes he would improve more as a player if he stays where he is.
Basis
"He needs a basis to perfect his game," said Favre to the Bild newspaper. "He has that here with Borussia and Marco can become more complete here.
"He knows that and this is also what he wants."
Reus is reported to have a clause in his contract that enables him to switch clubs for a fee of €18million, but Favre says his side does not necessarily have to sell the talented midfielder - nor does Reus have to accept the riches offered elsewhere.
"I think that a transfer now would be too soon for him," added Favre.
"It would be good for Marco to stay one or two years here and, who knows? Maybe we will be up at the top the anyway.
"I think he can turn them down."
However, Favre knows Arsenal are already monitoring the midfielder's progress.
Interest
"[Former Arsenal goalkeeper] Jens Lehmann gave him [Arsenal manager Arsene Wenger] a tip to keep an eye on Marco and Arsene then called me," revealed the Swiss coach.
"I know Arsene very well and I just told him the truth: that Marco is a very, very interesting player.
"But I am coach of Monchengladbach and I would like to keep hold of him."