Wales unfazed by row
Chris Gunter, Joe Allen and Steve Morison insist focus in the Wales camp has not been shifted.
Last Updated: 09/11/11 8:46pm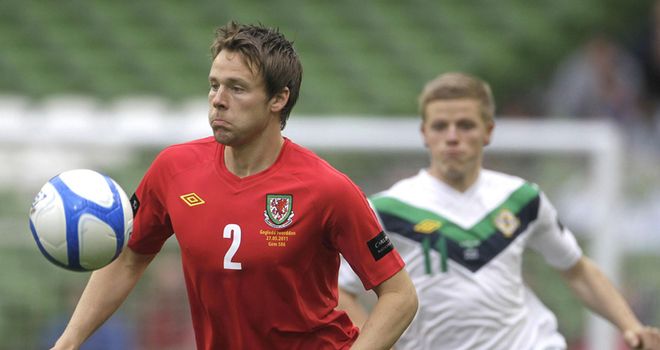 Chris Gunter, Joe Allen and Steve Morison insist focus in the Wales camp has not been shifted by a row regarding the British Olympic team.
As things stand, the Welsh, Scottish and Irish FA have made it clear that they wish to have no involvement with a football team at the 2012 Games in London.
A number of leading players from those countries have expressed a desire to take part, though, if the opportunity arises and Wales stars Gareth Bale and Aaron Ramsey have been pictured wearing Team GB shirts.
Those images have diverted attention away from an upcoming friendly date with Norway, but Nottingham Forest defender Gunter claims none of the players have allowed the media storm to affect their preparation.
He said: "To be honest living in Nottingham I didn't know they had worn the shirts.
Talking point
"I didn't know it had become this big situation and I haven't seen any of the photos, I don't think there is an opinion among the players and no-one has spoken about it.
"We had a talk about how the FAW can't support the idea of Welsh players playing in the GB team and that was all that was said and that is the only comment there has been.
"They put the shirt on for a photo and took it off again, and I don't think it has affected the squad. Half the players didn't even know it had happened.
"We understand it is a big talking point as the Olympics is a big event. But we have a game to focus on, not something that happens in seven or eight months' time."
Swansea midfielder Allen is one of those who could come into consideration next year, but he is keen to steer clear of the subject for now.
Focus
"There is game on Saturday and players and staff are only focused on that," said the 21-year-old.
"These matters are over our heads, as professionals we are here to work hard and train hard for the game."
Morison is another to have given his take on the matter, with the Norwich forward of the opinion that Bale and Ramsey were always going to be involved in any publicity shots.
"I think it was just common nature that they are the two players who would get picked if they are allowed to play," he said.
"I think it was more to do with sponsorship than anything to do with them. I am just lucky that I will not have to worry about it."