Allen feeling good about Wales
Wales' Joe Allen admits their recent good run of results has energised the squad ahead of the Norway game.
By Soriebah Kajue
Last Updated: 10/11/11 5:53pm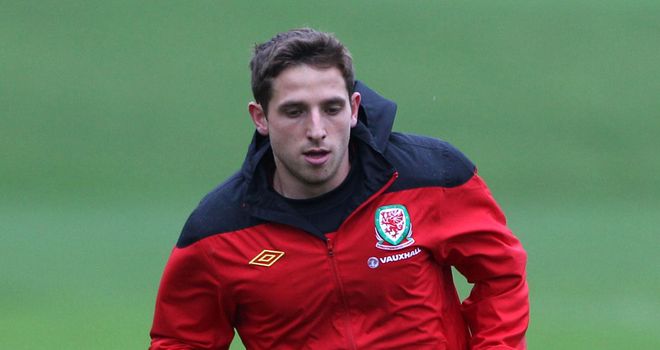 Wales' Joe Allen admits their recent good run of results has energised the squad ahead of the Norway game.
The Dragons could claim their fourth win in five games to further signal their resurgence under Gary Speed.
Just three months ago, Wales were suffering the ignominy of languishing in 117th place in the Fifa world ranking in their worst ever position.
But that air of gloom has been swept away with a new found sense of confidence and fresh optimism ahead of Saturday's game.
For Wales, the hope is to launch a genuine attempt at qualification for the 2014 World Cup and Allen is flush with pride at his country's displays.
Feel-good
"There is an excitement there when we meet up and we are very proud of the performances we have put in," he said.
"We have been getting wins and clean sheets, and we have created a lot of chances. That's what football is about and we are looking forward to trying to achieve that again on Saturday."
Norwich striker Steve Morison also reiterated his Welsh team-mate's sentiments about the positivity sweeping the squad.
"There is definitely a feel-good factor around the place and we are enjoying being here, we are looking forward to the game and we just can't wait to get going," Morison said.
Allen has recognised the talents of his compatriots Gareth Bale and Aaron Ramsey, who he believes are world-class.
Standout
Both players have appeared in promotional images for next summer's Olympics in Team GB supporter shirts.
Stuart Pearce is keen to include the pair who have expressed a desire to be involved in the Games but the Welsh FA and Speed have both voiced their concerns over their participation.
Allen refused to be drawn on the rights and wrongs of their participation but insists their quality is without question.
"We have some standout players," he added.
"I think Aaron and Gareth stick out as players who are world class and they make life a lot easier, they are great to play alongside and that's the sort of level and standard of player I want to play with.
"As a team we know where we stand on the situation, it's something we have spoken about and that is all I can really say about it."