Walcott - Fab move for Cesc
Theo Walcott believes Barcelona was the perfect move for former Arsenal team-mate Cesc Fabregas.
By Hayley Paterson
Last Updated: 12/11/11 11:42am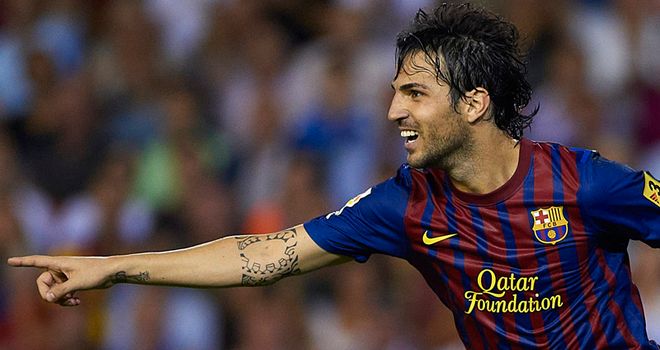 Theo Walcott believes Barcelona was the perfect move for former Arsenal team-mate Cesc Fabregas.
The ex-Gunners captain finally returned to the Catalan giants in the summer following a lengthy transfer wrangle between the two clubs.
Despite the 24-year-old's exit from North London, Walcott has been in no doubt that Fabregas made the right move.
Saturday could be the first time that the duo line up against each other since their time at Arsenal together when England face Spain at Wembley.
"He was an absolutely fantastic player for Arsenal. Throughout the years he was with us he went up so many levels," the 22-year-old said.
"Now he puts on a Barca shirt and it just seems to suit him. It's where he always wanted to be in the end. That's where he started and he's fitted into the team really well, he's scoring goals and enjoying himself.
Dominant
"It'll be nice to see him again and it will be weird playing against him for the first time. He's such a dominant player it'll be interesting to see how he fits in against us. I'm sure we can cope with him.
"He's coming off the back of a draw which is rare for Barca, but he scored so he's flying with confidence.
"The Spanish team have so many danger men you can't just focus on one though, you have to look after them all at the same time."
Despite the 'fear factor' surrounding the world champions with the likes of Xavi, Andres Iniesta and David Villa in their side, Walcott insists the visitors should not underestimate Fabio Capello's men.
"England are very strong through the middle, so hopefully they will find it tough," the former Southampton forward said.
Great players
"If they go wide we've got great full-backs, and I think if I went through the entire list of individuals for England we've got great players across the board.
"So I'm hoping they're going to find it tough to get around us.
"That's what we did with Arsenal against Barca, we frustrated them, played them at their own game, dropped off when we needed to.
"It's also important when you lose the ball that you react and try to win it back in five seconds."