Hunt hits back at critics
Stephen Hunt has slammed pundits who have criticised the way in which Ireland have fought to the edge of qualification.
Last Updated: 14/11/11 1:25pm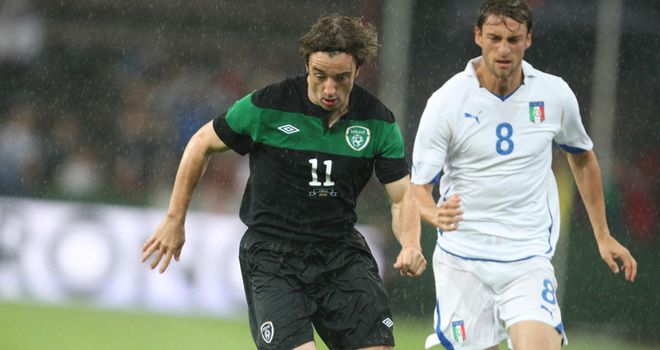 Stephen Hunt has hit back at pundits who have criticised the manner in which the Republic of Ireland have battled their way to the edge of Euro 2012 qualification.
The Wolves midfielder and his team-mates will book their place in Poland and the Ukraine if they avoid a heavy home defeat by Estonia at the Aviva Stadium on Tuesday evening after Friday night's 4-0 play-off demolition job in Tallinn.
Some commentators who have condemned manager Giovanni Trapattoni's conservative approach throughout the campaign have since called for the shackles to be thrown off to complete the job.
However, 30-year-old Hunt's response was withering.
Style
He said: "When we qualified for the first World Cup, [goalkeeper] Packie Bonner couldn't get the ball far enough down the pitch.
"Our style of play has developed since then because we no longer hit it as high as we can.
"We do have a direct style of play, but we have good effective players at it. It's a bit of a myth, really, and we have just to get on with it.
"It can come across sometimes from the media that we don't have a fancy style of play, but we never had, we never, ever had.
"We had Liam Brady, who was talented, but apart from that, you tell me who has been Ronaldo or Messi in the last 20 years for Ireland?
"There is no-one who has been that good. [Jason] McAteer - good player, works hard, but no Messi or Ronaldo.
"He talks like them, but no Messi or Ronaldo."
Trapattoni freely admits his squad does not contain the rich individual talent available to some of his managerial colleagues.
However, the Italian is happy that the character, collective spirit, organisation and work ethic which have fuelled the Republic's last two campaigns more than make up for that, and Hunt agrees.
Magic
He said: "We have some good players - we have some very good players, not just good players.
"We have players who are well capable of producing a bit of magic and playing in the Premier League, and Aiden McGeady plays in the Russian league.
"Look at the Italian manager for England as well, how they are as well now. We are hard to beat and we will be hard to beat come Tuesday as well."