Blatter backpedals in racism row
FIFA president Sepp Blatter has attempted to calm the furious backlash which has met his claims on racism.
Last Updated: 17/11/11 12:17pm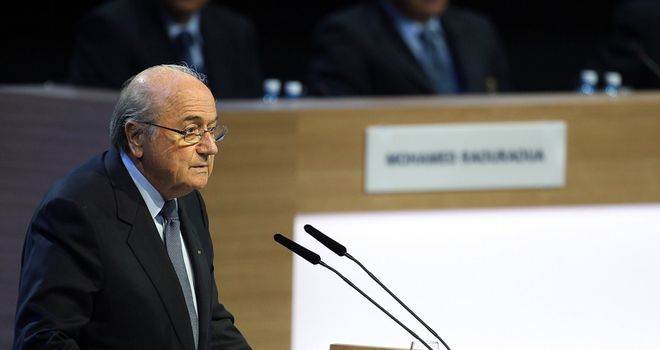 FIFA president Sepp Blatter has attempted to calm the furious backlash which has met his claims that racist abuse between players on the pitch should be settled by a handshake.
On a day when the English Football Association charged Liverpool's Luis Suarez with racially abusing Manchester United's Patrice Evra, and with a racism investigation against John Terry still going on, Blatter said racism on the field of play is not a problem.
His suggested solution was for a handshake to settle any issue and the idea has provoked widespread anger around the world.
Blatter has since released a statement on FIFA's official website to clarify his stance on fighting racism, claiming his comments had been misunderstood.
The statement read: "I would like to make it very clear, I am committed to the fight against racism and any type of discrimination in football and in society.
"I have been personally leading this battle against racism in football, which FIFA has been fighting against throughout the past years through campaigns in all of our competitions such as the 'Say no to racism' campaign.
Plague
"I also know that racism unfortunately continues to exist in football, and I have never denied this. I know that it is a big problem in society, and that it also affects sport.
"I strongly believe that we should continue to fight all together against racism on and off the field of play, in order to eradicate this plague.
"My comments have been misunderstood. What I wanted to express is that, as football players, during a match, you have 'battles' with your opponents, and sometimes things are done which are wrong. But, normally, at the end of the match, you apologise to your opponent if you had a confrontation during the match, you shake hands, and when the game is over, it is over.
"Anyone who has played a football match, or a match in any sport, knows that this is the case.
"Having said that, I want to stress again that I do not want to diminish the dimension of the problem of racism in society and in sport.
"I am committed to fighting this plague and kicking it out of football."