'I'm proud of my race'
Jay Bothroyd speaks exclusively to skysports.com on discrimination, life at QPR and Joey Barton.
By Peter Fraser - Follow me on twitter @SkySportsPeteF
Last Updated: 18/11/11 9:15pm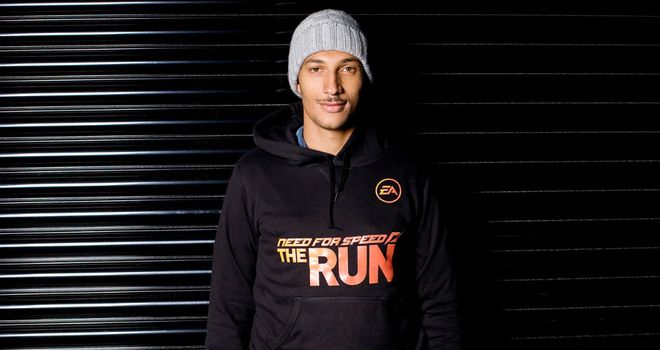 FIFA president Sepp Blatter is facing calls to resign after shocking Britain by stating racism does not exist in football. Jay Bothroyd knows that is not the case and fears the discrimination will never be eradicated.
The Queens Park Rangers striker has previously described himself as being of a 'mixed-race background' and he has experienced prejudice first-hand. He admitted in October a case was ongoing from the two years he spent at Italian club Perugia between 2003 and 2005.
Bothroyd has also now revealed he has been the subject of racist abuse on Twitter, which follows a concerning pattern. Two teenagers were arrested earlier in November before later being released on bail for sending Newcastle United's Sammy Ameobi a racist message on the social networking site. Police are also investigating a separate case in which insults were sent via Twitter to Sunderland's Fraizer Campbell.
The Football Association is attempting to combat racism through campaigns such as Kick It Out, and on Wednesday the governing body charged Liverpool's Luis Suarez with verbally abusing Manchester United's Patrice Evra. An FA and police investigation is also taking place after England captain John Terry was alleged to have made racist remarks towards Bothroyd's QPR team-mate, Anton Ferdinand.
Blatter's out-of-touch comments suggested a cure to on-field racism could be post-match handshakes. This is ludicrous and Bothroyd, with a saddening acceptance, does not think there will ever be a solution to an institutionalised problem.
"There is always going to be racism in football, because there is always that one narrow-minded person, from a fan's point of view, in the crowd," QPR's former Cardiff forward told skysports.com. "What can you do about that? There is nothing you can do. Obviously you can punish him once you have caught him, but you can't say anything to him before.
"There is going to be racist people, but they are narrow-minded. The way I react is you don't let them get to you. I have been racially abused on Twitter. I have been racially abused on the pitch. You just don't reply, you block it out. I am proud of who I am. I am proud of my race. That is the way I look at it. I look at things in a positive way."
The FA is still considering what action, if any, to take regarding the accusations of Terry's comments to Ferdinand, which are alleged to have taken place in QPR's 1-0 win over Chelsea at Loftus Road on 23rd October.
Terry and Chelsea have come under intense scrutiny as a result. But Bothroyd, who was an unused substitute in the match, does not believe QPR, last season's Championship winners, have lost their focus.
Choice
"It hasn't affected QPR and it hasn't affected Anton," he explained. "He has been very professional. He has said all he has to say. I think everyone has given their statements now and it is down to the FA to deal with it how they see fit."
QPR have not allowed the racism row to make an impact and neither has Bothroyd. Having left Cardiff as a free agent in the summer after three successful years in Wales, the former Arsenal trainee is enjoying life back in London.
It was a difficult start to the season, as Bothroyd struggled to find the form which saw him score 20 goals in all competitions in his final campaign for Cardiff. The goalscoring talents which earned him an England debut against France in November 2010 appeared to have disappeared.
Neil Warnock consequently decided to drop Bothroyd from his starting line-up and had a heart-to-heart with the ex-Coventry, Blackburn, Charlton, Wolves and Stoke player. The discussions appear to have worked, with two goals scored in as many matches, albeit in the most-recent defeats to Tottenham and Manchester City.
"I am really settled," Bothroyd said of life at QPR. "The first six games, the gaffer said to me, 'you have been doing everything, but you haven't scored'. So he left me out for a couple of games and I worked hard in training and got back in. My hard work has paid off with the goals of late.
"It is a little bit difficult coming from a club where I played 4-4-2 for three years and a lot of things went through me. Now it is a bit different and I guess it is very much a team. I wasn't a one-man team last year at Cardiff by any stretch of any means. But a lot of the play came through me at Cardiff.
"Now there are a lot of talented players in the ranks of QPR. We have got Shaun Wright-Phillips, Anton Ferdinand, Joey Barton is in there, Alejandro Faurlin. There are really good players. Now it is different, a different formation, which I had to adapt to. Of late, my hard work, my extra sessions and finishing practice, it has been paying off."
A factor in Bothroyd's acclimatisation at Loftus Road has been the excellent camaraderie. After being given the choice while on a pre-season tour of singing a song or dancing on a bar as part of his induction - "my voice isn't the best, so I did a little two-step" - he has been made to feel welcome.
"There are a lot of characters at QPR, to be honest, and the banter is very good," he said. "On away trips, there is always banter. It is really enjoyable. The way the manager has the training ground and training area is very much a relaxed environment. That is credit to the manager. Everyone likes playing for him and working for him. He has a bit of banter. He winds a few of the boys up, disses people about their clothes, their gear and their hair. He gets a bit of stick back. He is a lovely guy."
Twitter, although Bothroyd has experienced the negative sides of the networking tool, has also proved effective in the settling process at QPR. Bothroyd is himself a keen tweeter, but he has no plans to follow the lead of team-mate, captain and part-time theorist Joey Barton.
"That's not me," laughed Bothroyd. "I don't want to be a philosopher. Joey likes to think he knows it all and he tries to comment on everything and talk to high-profile people. I just use Twitter for speaking to the fans, interacting with the fans and giving them feedback. They are there for us through thick and thin, away and at home, and if I can help people, that is what I use it for."
Perspective
Returning to the Premier League at the age of 29 means Bothroyd is back in the big time at what should be a peak stage of his career. He needs to prove his ability and attitude to some critics at the highest level. He also hopes goals in England's leading division will earn him a recall for his country.
Bothroyd spent the recent international break training with his club, while also relaxing along with team-mates Wright-Phillips and Heidar Helguson at the Formula 1 Grand Prix in Abu Dhabi courtesy of QPR owner and Team Lotus principal Tony Fernandes.
Bothroyd would rather have been playing for England in the wins over Spain and Sweden. But he took encouragement after talking with members of Fabio Capello's staff who also work for Manchester City after they watched him score in City's 3-2 win two weeks ago.
"The international break is always a bit of a bummer, because if you are not called up with the national squad then there are a very small number of players who are training with you," reflected Bothroyd. "But we deal with it as best we can.
"Obviously I want to be involved (with England). The only way I can be involved is by playing well for my club. That is what I am continuing to do and, fingers crossed, I get a recall. I am very proud of my one cap. There are not many people in football who can say they have an England cap, so I am very privileged that I have that and I want to have more."
Bothroyd will hope to carry his rediscovered goalscoring form into Saturday afternoon's trip to former club Stoke. He knows it will be a tricky 90 minutes against the team of Tony Pulis, who he held transfer talks with in the summer, but QPR need to end a two-game losing run ahead of winnable matches with Norwich and West Brom."The fans are really good at Stoke - very loud and very vocal," said Bothroyd. "The stadium is very intimidating and we know it is going to be a tough game. We know it is going to be physical. But Tony Pulis has done well. They are an established Premier League side now and it is a game we look at and know it is going to be a test.
"But we want to get maximum points. These next three games are very important. No disrespect to the likes of West Brom, but they are in the same pool as us, so we are looking to get maximum points."
That QPR consider themselves to be 'in the same pool' as experienced Premier League sides is helped by the influence of Fernandes. After buying out Bernie Ecclestone in August, the Malaysian entrepreneur has brought realism to Loftus Road.
The likes of Ferdinand, Wright-Phillips and Barton have all matched Bothroyd in being convinced to join QPR, but there have not been any of the brash promises which can often follow takeovers.
"He has brought stability to the club," Bothroyd said of Fernandes. "He has brought money (laughing). He is a very genuine person and a very nice guy, very down to earth, very humble. I speak to him pretty regularly. When we are playing, he says, 'well done'. He has a very good relationship with the manager. The manager is very happy that there is now new ownership and the gaffer has signed a few players, like he said he would in the summer when I spoke to him. I feel we are going in the right direction."
And, for Bothroyd, the time is perfect to be making forward progress in a varied professional life which has already taken in eight clubs in an 11-year senior career.
"I feel like I am still 22-years-old," he said. "I go out and I still lash balls before training before stretching and all of that stuff. I am happy I am back in the Premiership. I am enjoying every minute of it. It is all about the Premiership. There is no better league. Barring (Cristiano) Ronaldo and (Lionel) Messi, I honestly think the best players are in England and I am sure there will be more imports as well."
Bothroyd added with a personal perspective: "There are lots of experiences throughout a career. I have been in football a long time now and I have lots of experiences. I went to Italy. I was at Wolves. I went to Blackburn. I have worked with different managers and I have learnt you do not waste your time.
"You go in and train every day, put everything you have into training and hopefully you get your rewards. Over the last three or four years, I have got rewards. I have represented my country. I scored 20 goals last year and this year it has started off well. Hopefully it can continue. I will continue working hard and we will see what has happened at the end of the season."
Jay Bothroyd was playing Need for Speed: The Run, OUT NOW on Xbox 360, PS3, PC, Wii and 3DS. Visit www.uk.needforspeed.com for more information or go to www.hmv.com to order your copy now. #NFSTheRun