McCarthy wants Irish vibes
Mick McCarthy hopes his Irish players will energise his Wolves squad with their positive vibes after qualifying for Euro 2012.
Last Updated: 18/11/11 4:51pm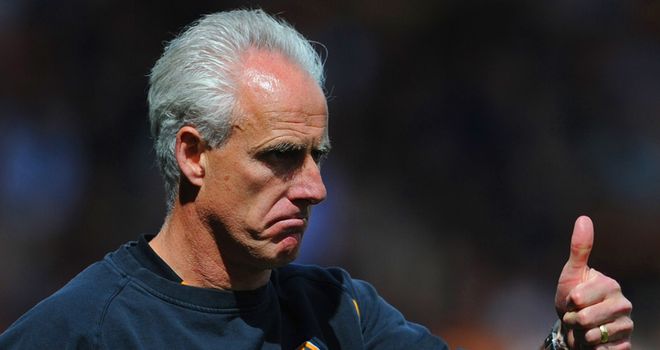 Mick McCarthy hopes his contingent of Irish players will energise his Wolves squad with their positive vibes after qualifying for Euro 2012.
Kevin Doyle, Stephen Ward and Stephen Hunt were all part of the Republic of Ireland squad that beat Estonia 5-1 over two legs to seal a place at next summer's European Championship.
McCarthy is in no doubt his players will benefit from playing at the highest level against the elite of Europe's football nations.
And he recalls his own playing days representing Ireland and how his game was taken to another level when he faced the continent's best in the famous green jersey.
"It is a huge, huge day for Doyley, Wardy and Hunty, all the players and the country," said McCarthy.
Invaluable
"It was brilliant to see them qualify and it will benefit all of them as players.
"All the top teams are there. There are no mugs there at all, so you've got to perform. It's tournament football as well.
"I think in terms of your development, education and experience, playing in a major tournament is invaluable.
"I know, having been there. I went in 1988 to the European Championships and played against England, Holland and Russia - a real high level of football.
"But they know they've got to come back to work and earn a living in the Premier League and I hope the feelgood factor filters down to Wolves."
All-round game
Indeed McCarthy believes Ward has already improved immensely due to his involvement with the Ireland team and that Wolves are now benefiting.
He added: "I honestly believe Wardy is a far better player now, having had some international football.
"He has stepped up another level. He has improved all round - his all-round game, his confidence, everything.
"I've had loads like him of that ilk that have come from lower levels and made themselves better players but he is as good as anyone I have worked with of that kind of player.
"His ability, his attitude, the way he has gone about it, is spot on. He has not always been flavour of the month here but he has won them (the fans) over."