Coloccini eyes Newcastle success
Newcastle United defender Fabricio Coloccini is delighted with his side's impressive start to the 2011/12 Premier League season.
By Subhankar Mondal
Last Updated: 19/11/11 12:12pm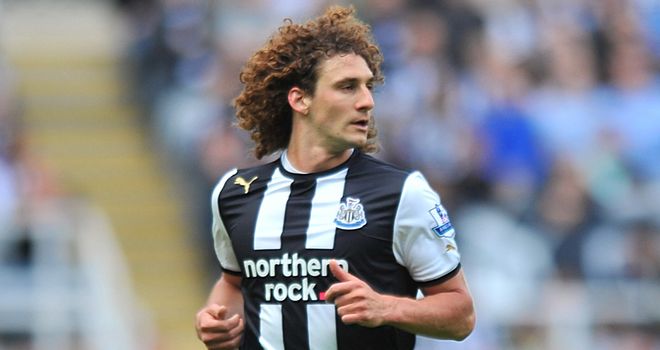 Newcastle United defender Fabricio Coloccini is delighted with his side's impressive start to the 2011/12 Premier League season and is hopeful of continuing their run.
The Magpies are currently third in the table with 25 points from 11 matches, just six points behind leaders Manchester City, and are yet to be beaten in the league.
Coloccini's displays at centre-back for Alan Pardew's side have been vital and the Newcastle captain wants his team-mates to aim higher as they prepare to take on Roberto Mancini's team at the Etihad Stadium on Saturday.
"I'm so happy right now," the 29-year-old told The Sun. "Being captain has just added to that. It is something I never thought would happen but it means so much.
"It has been an amazing start from us and I just hope we can keep it going. We are playing the best team in the Premier League right now and we know it will be very difficult.
"But we are working so well together as a team, so we go there with confidence. We are ready.
"I played in some great defences when I was in Spain but it's fair to say this is the first time it has happened here in Newcastle.
Unbelievable
"You can't just look at us defenders though," added Coloccini. "All over the pitch, everyone is working - especially when we don't have the ball, which is so important.
"Honestly, it's hard to believe how well we have done so far. If you'd have said to me in the summer that we would get to November and still be unbeaten I wouldn't have believed it.
"Our expectation before the season was to make sure we get enough points to stay in the Premier League.
"But once we get there of course, why shouldn't we look at doing better things?"
Killer Aguero
Against City, Coloccini will confront his compatriot Sergio Aguero, who has been in sensational form since his move to England during the summer transfer window.
Coloccini has featured alongside the former Atletico Madrid striker for the Argentina national team over the years and lined up against him in the Primera Liga while playing for Deportivo La Coruna.
He fully understands the threat posed by the 23-year-old and explained: "I know Sergio Aguero well, both from when we played against each other in Spain and also when we join up with the Argentina national team.
"He is a top player and we know if we give him any chances in the box, he will kill us. Sergio is a killer.
"When you play against him, you have to concentrate the whole time. He's a fantastic talent, the kind of player who may slip out of sight for 10 minutes and then, all of a sudden, he changes the game."