QPR plan busy January
Neil Warnock hopes to sign four or five new players, while he will not make a decision on Adel Taarabt until the transfer window reopens.
Last Updated: 22/11/11 10:07am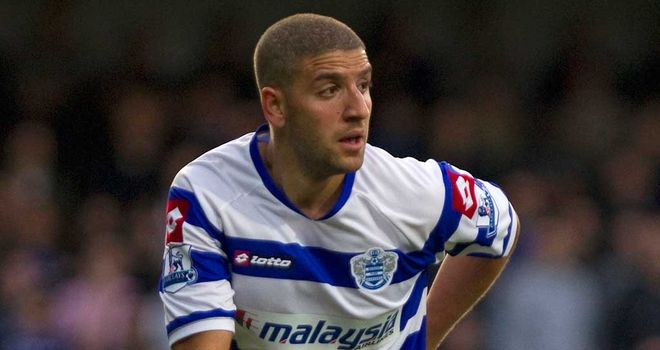 Neil Warnock has revealed that he hopes to sign four or five new players in January, while he will not make a decision on Adel Taarabt until the transfer window reopens.
Moroccan playmaker Taarabt returned to training with Queens Park Rangers on Monday after a mix-up with his passport meant he was unable to get back from international duty in time for the 3-2 victory over Stoke.
Taarabt's absence also left Warnock without a full complement of substitutes for the trip to the Britannia Stadium, and he does not want to be in that position again.
Warnock has set his sights on bringing in a number of reinforcements this winter, and he knows he will get the backing of his board.
"They know we need some more players to add to the squad and they have been very supportive," he told Sky Sports News.
"We are on the lookout for four or five players.
"I'm not saying they are all going to be big-name signings, but we need numbers in the squad."
Warnock understands that it would be a mistake to spend too heavily if he feels he is already well stocked in certain areas, having been impressed with the performance of Heidar Helguson against Stoke.
"You could spend £10million on a striker and he will not play as well as Helguson on Saturday, so you have to be careful as a manger," he explained.
"By all means we want to improve the squad, and long-term as well as the immediate concern."
Part of the squad
Warnock refused to be drawn on whether Taarabt had a long-term future at Loftus Road, with the 22-year-old having been linked with a big-money move elsewhere after a frustrating start to the Premier League season.
While Warnock is ready to listen to offers for Taarabt, he will not make his mind up about the midfielder until the turn of the year.
"There are problems every week with a different player, for every manager, and you have to deal with these things," Warnock said.
"He is part of the squad and we'll decide what we are going to do. I'm sure Adel's got one or two opinions himself and what will be, will be, but we are not going to cross that bridge until January."
"Somebody asked me about £20million and I said 'I'd drive him myself in the car, and lock the doors'.
"But he's a very talented young man with a lot to offer. At the moment he is not in the team and we are doing quite well, so as a manager you do not change things that don't need changing."