Tierney ready for tough tasks
Marc Tierney insists that being mentally fit as well as physically fit is important when playing in the Premier League.
By Simon Porter
Last Updated: 22/11/11 4:39pm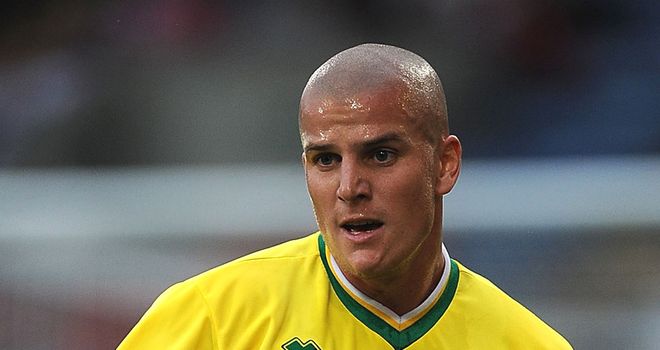 Norwich City defender Marc Tierney insists that being mentally fit as well as physically fit is important when playing in the Premier League.
The 26-year-old had the difficult job of trying to control Arsenal winger Theo Walcott in the Canaries' 2-1 defeat to the Gunners on Saturday.
The left-back has been the only player to start every game so far this season and he puts this down to his hard work and preparation before the game.
"I did a lot of extra work, physically and mentally - concentration-wise because I think that's what you need at the top, to be really on the ball for the whole 90-plus minutes," Tierney said.
"That's one of the main things I see - who we are playing against and how I can do my best to put them out of the game. That's how I prepare for the game.
"I look individually at what players I might be coming up against. That's how I home in and have that tunnel vision per game.
"That's what seems to have suited me best in my career and it's what I'll continue to do. So far this season, its gone okay.
"You just hope you keep playing well enough," he added. "Down the leagues if you keep playing well enough you hope you rise to the top and that's the same come international level.
"There are a couple of lads who have done fantastically well this season. They've not quite got the recognition yet but you just keep on it and keep playing as we have done and I'm sure it will come.
"I do like to come and support the attack and I've been working particularly well with Anthony (Pilkington). He tends to see whenever I'm trying to help him out and if the ball's not there for him to play in; he's been putting it out wide to me.
"I like to get balls in the box because generally if you get balls in the box we end up scoring. Steve Morison's got on the end of a couple and I'll continue to do that whenever I can, but I'm aware when I see a winger that first and foremost it's my job to defend and then if I can push on, I will do so."
Arsenal's two goals on Saturday ensured that Lambert's men have still not earned a clean sheet this season and they will be looking to fight for one in their next fixture against QPR on Saturday. "There's a sense of pride that as a defender you want the clean sheets," said Tierney.
"The way we're attacking sometimes leaves us open, a little bit vulnerable, so some of the things we've been working on are how we can attack and not be so vulnerable because sometimes rather than them having three chances and scoring, they'll have one and you're chasing the game before you know it.
"A couple of the games we learned that, against the likes of West Brom when we were on top, then conceded a goal. We definitely want to get a foothold in the game early on and go on from there.
"We look for a sound base - any team that does well go from a sound base and clean sheets are a must so we're definitely looking to get there, but it's not weighing too heavily on the lads."