Lescott knew it would be hard
Joleon Lescott admits he always knew it was going to be difficult in the UEFA Champions League this season.
By Simon Porter
Last Updated: 23/11/11 4:43pm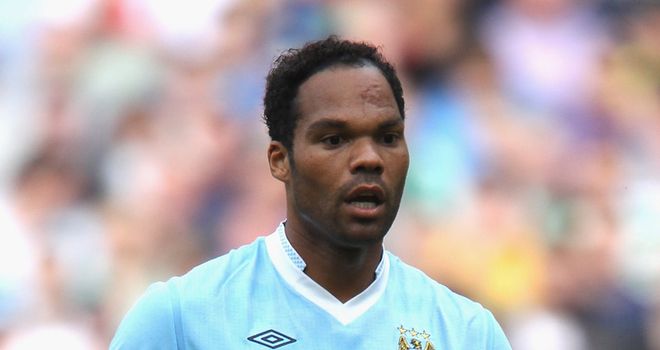 Manchester City centre-back Joleon Lescott admits that he knew it was going to be difficult in the UEFA Champions League and he insists that he felt the intensity in the club's first game against Napoli.
The Citizens' hopes of reaching the last 16 is not under their control anymore after losing 2-1 to Napoli on Tuesday, Roberto Mancini's men will have to defeat Group A winners Bayern Munich and hope that pointless Villarreal do not lose to Napoli.
29-year-old Lescott knows that their Champions League fate is unclear but he insists that the team's main priority is to focus on beating Bayern Munich rather than think about the result of the Napoli game.
"It is out of our hands now but we have got to focus on that Bayern game, when it comes around, to do our part. We are obviously going to go into that game positive; we know it is a must-win," said Lescott.
"But we knew it wasn't going to be easy - we looked at the group at the start. Napoli and ourselves were two fresh (Champions League) teams but Villarreal and Bayern are established teams.
"There were no easy games and the first game proved that, Napoli at home. Even though we hit the bar a few times it was still an exciting game and a good one to watch."
Lescott's fellow centre-back Vincent Kompany knew they would face tough opposition before the competition got under way. "
"We were in by far the hardest group of this Champions League," said Kompany.
"We were in pot three or pot four, so we were never going to be protected. That is the reason why we are still fighting for this - it is a tough group."
Lescott admitted that he was unhappy about conceding two goals and he believes the squad may have become too reliant on the club's attacking abilities.
"There is no way you can point the finger," added Lescott. "We are obviously disappointed to concede two goals, that is unlike us. But this is a hard place to come and get a result. We can't always expect to score three or four goals to win every game.
"Sometimes we need to be hard to beat. Obviously we had a lot of possession and maybe in the first half we could have gone in with a lead but it wasn't to be. In the second half they pressed us and got a good goal.
"The atmosphere was great; I wouldn't say it was intimidating. It was good. We knew they were loud. At the home leg there were only a thousand of them but they were vocal then. We knew it would be intense and it was."
It is looking likely that City will finish third in the group allowing them a place in the latter stages of the Europa League early next year, Kompany however, believes they may still be able to qualify for the knockout stage.
"In the end the most disappointing thing was just the result," added Kompany. "It could have easily gone one or two goals more for them or one or two more for us.
"We have to hope for a good game from Villarreal but I am convinced we can win the next game, which is not a problem."
City will now have to focus on the Premier League because they will be facing Liverpool at Anfield on Sunday.
Industrial midfielder James Milner said: "It was one of those nights for us. We need to make sure we pick ourselves up and go again on Sunday."