Wollscheid signs for Leverkusen
Philipp Wollscheid will move from Nurnberg to Bayer Leverkusen at the end of the season.
Last Updated: 23/11/11 5:45pm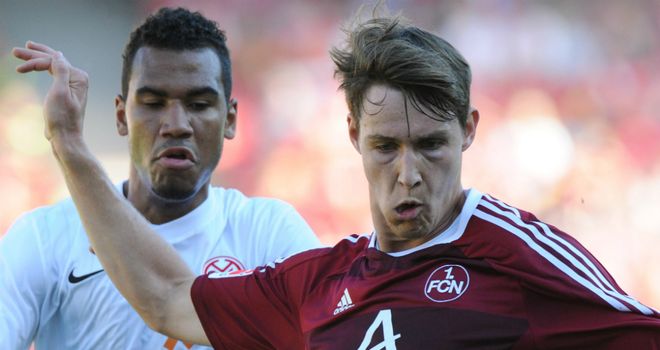 Philipp Wollscheid will move from Nurnberg to Bayer Leverkusen at the end of the season his club have announced.
Wollscheid had two years left on his contract with Nurnberg, but will move for an undisclosed fee after agreeing a five-year-deal at the BayArena.
The 22-year-old made his Nurnberg debut against Hannover in November last year and has become a valuable member of Dieter Hecking's side.
Nurnberg chairman Martin Bader did not want to lose the player and tried to convince him he had a future at the easyCredit Stadion.
He told the club's official website: "Philipp told us about his desire to move in an open and honest discussion.
"We tried to show him that he is a significant player for us and that he had a contract until 2014, but we realised that he would like to take the next step in his career, which is understandable.
"We made it clear to Philipp and the clubs interested in him that Nurnberg would only be prepared to agree to a transfer if our valuation of Philipp was reflected in the transfer fee.
"After extensive and constructive talks over recent weeks, our expectations have been met by the offer made to us by Leverkusen."
Confidence
Meanwhile, Bader has issued a vote of confidence to manager Dieter Hecking despite the club going eight games without a win in the Bundesliga.
He added: "It would be too easy to say this is all a matter of mind or a matter of quality. Whether the skills of the team are enough or not. Or if it is down to the manger.
"This is all nonsense. I am watching them every day. I see the way they work, their mentality and the way the identify themselves with Nurnberg.
"This is totally different from what I have experienced from other squads once in a while in the past. This is a young team and this young team is lacking experience and stability from time to time. This is all."