Lustig not lured by money
Sweden international Mikael Lustig has revealed why he decided to turn down the riches on offer elsewhere to agree a deal with Celtic.
Last Updated: 24/11/11 10:04am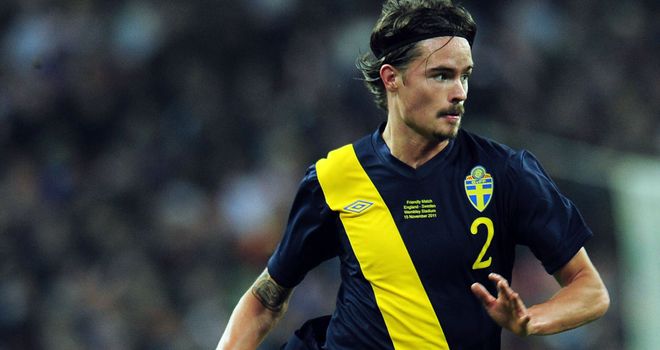 New Celtic signing Mikael Lustig has revealed that he turned down the riches on offer elsewhere because he wanted to play regularly for a great club and challenge for silverware.
The Sweden international agreed a deal with Celtic on Wednesday to join the club on a three-and-a-half-year deal when the transfer window reopens in January.
Lustig has spent the past three years with Rosenborg in Norway and his performances had reportedly attracted widespread interest.
While several of those clubs may have been in a position to offer Lustig a better salary, the versatile 24-year-old is convinced he made the right decision to head for Glasgow.
He is well aware of Celtic's history and hopes to establish himself as a permanent fixture in Neil Lennon's starting XI ahead of Euro 2012, whilst also fighting for trophies.
"This moves feels good," Lustig, who can play at right-back or in central defence, said in the Daily Record.
"I'm joining a club where people believe in me and that will help me develop my game.
"I'm aware Celtic were following me for a long time and that means this was not a panic transfer.
Valued
"That means a lot and is one of the main reasons I've joined. That and the fact they are a huge club.
"The thought has been in my mind for a long time that I was leaving Norway and I had to be careful and think long about my next club.
"If it had just come down to money there were chances for me to go somewhere else and get a better contract in a better league.
"But I wanted playing time and I wanted to feel I'd be valued.
"I have a Euro Championships coming up next summer and my chances to play football at a good level had to be on my mind.
"Celtic want to win the SPL and do well in the Champions League. That's a dream I share.
"Rangers are sitting top of the league and are up there by quite a long way at the moment.
"But I still hope we can come back and win the title this year. That's my ambition."
Same style
Lustig has no worries about having to adapt to Scottish football as he feels his time in Trondheim will stand him in good stead.
He said: "Celtic are much the same as Rosenborg when it comes to how they play.
"My game is best suited to a team in the top of the league who plays an attacking style and Celtic seem exciting.
"Of course the SPL is not as strong as it was when my countryman Henrik Larsson was there.
"But the greatness of Celtic is still the same and I'm really looking forward to being part of the club.
"I feel I've made a good choice."