Dortmund stand firm on Gotze
Borussia Dortmund have reiterated their belief that Mario Gotze will stay at the club in an attempt to put an end to transfer speculation.
Last Updated: 24/11/11 12:22pm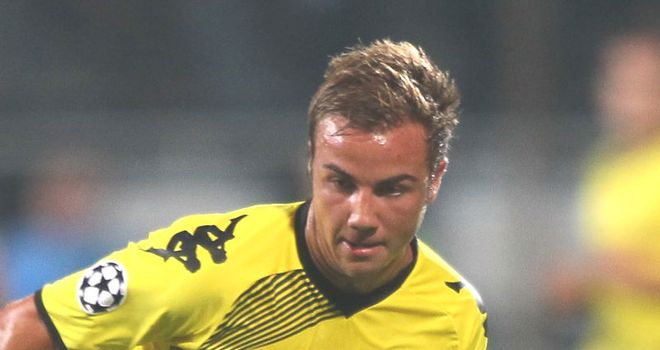 Borussia Dortmund have reiterated their belief that Mario Gotze will still be at the club next season in an attempt to put an end to speculation over the midfielder's future.
The 19-year-old playmaker is regarded as one of the most exciting young talents in European football and has reportedly attracted the interest of several clubs.
Arsenal are among those to have been linked with Gotze and came up against the Germany international when they played Dortmund at Emirates Stadium in the UEFA Champions League on Wednesday.
The build-up to the game, which saw Gotze hobble off due to injury as the Gunners won 2-1, fuelled fresh reports about a possible move.
Dortmund have repeatedly stated that their teenage sensation is not for sale and director of sport Michael Zorc is tired of the incessant transfer talk.
Ignorance
Zorc has made it clear once again they have no intention of letting Gotze leave and now hopes the matter will be put to rest, with the player under contract until 2014.
"It surprises me how much ignorance big parts of the media show in the way they handle this subject," said Zorc after the defeat in London.
"All the relevant people on this topic - the player, his family, the player's agent and not least us as a club have all said clearly: There will be no transfer for Mario Gotze.
"In football, things are never 100 per cent, but I'll say I am 99 per cent, maybe more, sure that Mario Gotze will play next season at Borussia Dortmund.
"Now you can throw the topic in a heavy chest and let cobwebs grow on it."