Gunners duo aim to push on
Alex Song and Aaron Ramsey believe Arsenal can go from strength to strength after reaching the last 16 of the Champions League.
Last Updated: 24/11/11 3:50pm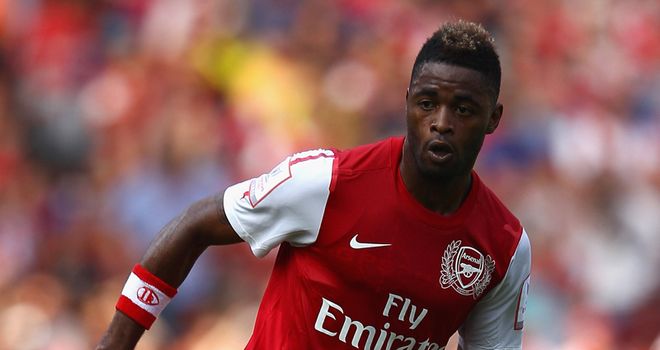 Alex Song and Aaron Ramsey are confident Arsenal can go from strength to strength after booking their place in the last 16 of the UEFA Champions League.
The Gunners beat Borussia Dortmund 2-1 at the Emirates Stadium on Wednesday night with a brace from in-form captain Robin van Persie to become the first English side to secure qualification for the knockout stages.
Arsene Wenger's men, fired by the 17 goals of their skipper, are a team transformed from earlier in the season and have also managed to clamber their way back up the Premier League standings.
Song - whose powerful run and cross set up Van Persie's opener at the start of the second half against Dortmund - firmly believes there is more to come.
"Maybe some people are very hard on Arsenal, I don't know why," the Cameroon midfielder said.
"We want to show everyone is wrong about us and we did very well - but we don't want to stay in the same situation now and just say, 'everything is working and we will just keep on like this'.
"We want to push ourselves to try to look forward."
Song, 24, added: "We started really badly, but it is not easy when you have new players - you need to give them time.
"Everyone tries to help each other and we have very good cohesion, which is important.
"When you play for a team like Arsenal you just want to finish all the time at the top of the league. That is what we try to do.
"We know we have the Carling Cup [quarter-final against Manchester City] coming soon and we just have to try to win every single game."
Fortress
Arsenal can now head to Athens for next month's final group game against Olympiakos safe in the knowledge they will be among the seeds for the last 16, regardless of the result.
Given how costly failure to do the same last season proved when being drawn against Barcelona, Song revealed: "We didn't want to make the same mistakes as last time.
"We needed to finish the job because we know to finish top of the group is very important."
Fellow midfielder Ramsey believes Arsenal should be confident of coming through against any opposition with the form they are in.
"At home we have done really well and this is the place we want to make our fortress," said the Welshman.
"Hopefully that can be the case and I am sure we have given ourselves a good opportunity now.
"We feel like we can beat anybody at the moment with the form we are in, so hopefully we get a good team and we can progress to the next round."