Aluko helped to fund deal
Sone Aluko dipped into his own pocket to push through a Rangers deal, but Ally McCoist has attempted to clear up confusion regarding his move.
Last Updated: 25/11/11 5:14pm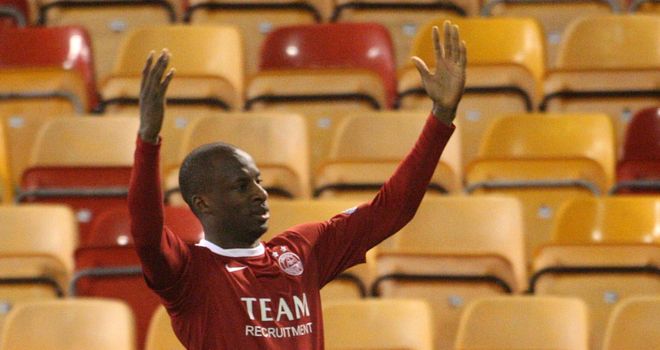 Sone Aluko dipped into his own pocket to push through a deal with Rangers, but Ally McCoist has attempted to clear up some confusion regarding his move.
The 22-year-old has signed on at Ibrox following a protracted transfer saga that involved his former employers Aberdeen and a compensation claim.
Aluko was available as a free agent, but the Dons felt they were entitled to financial reward for helping to develop his game.
In order to seal a switch to Rangers, the young winger agreed to fund some of that package.
Some reports suggested he had financed the entire £200,000 deal, with the help of his family and friends, but Gers boss McCoist has been quick to play down the rumours and has shed some light on the agreement.
He said: "There has been a little bit of misrepresentation of the story in the press. Sone has decided to pay some of the compensation which Aberdeen felt they were due.
Nonsense
"I think Aberdeen were a little bit upset about it all - in my opinion rightly so. We are a little disappointed with some of the press coverage to be honest.
"There were some tales of his family's life-savings and all that which is nonsense to be quite frank with you.
"He has decided to help with the contribution to the compensation that Aberdeen believed they were due.
"Two things I would say - I don't think it's that unusual in this day and age and, more importantly, I find it very refreshing that he has chosen to do that and shown a real willingness and desire to come to the club."
Aluko has signed on until the end of the season and, despite lacking in match practice, McCoist claims he could be thrust straight into action against Kilmarnock on Sunday.
"We haven't picked any team yet but I wouldn't have any problems about pitching him in on Sunday, either from the start or from the bench," he said.
Fitness
"He played in a closed-doors game on Monday at St Mirren and came through it fine. He played the vast majority of the game, he is training again and he looks fine.
"He's young and he certainly doesn't look as though he has a problem with fitness at this stage of his career."
Meanwhile, McCoist has confirmed that Indian trialists Sunil Chhetri and Jeje Lalpekhula have arrived in Glasgow and will spend the next week trying to impress the Rangers coaching staff.
"They are coming in today (Friday) and will train tomorrow," he said.
"They will have a look around Ibrox and Murray Park and will hopefully be here for a week.
"They have kindly agreed to come over and we will have a look at them."