Hodgson welcomes striker back
Roy Hodgson insists Peter Odemwingie is not guilty of exaggerating his recent knee injury and has welcomed him back into the squad.
Last Updated: 25/11/11 6:32pm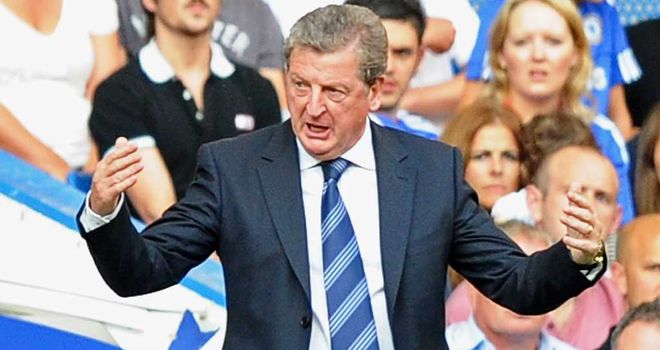 West Brom boss Roy Hodgson insists that Peter Odemwingie is not guilty of
exaggerating his recent knee injury and has welcomed him back into the squad.
Odemwingie has endured an injury-hit campaign, with his latest setback keeping him out for the past month.
Hodgson vented his frustration at the situation earlier this week when he claimed that Albion had so far this season got "nothing" from a player who netted 15 goals last term.
Hodgson further claimed that Odemwingie was "difficult to work out", prompting the player to take to his Twitter account to post a picture of the injury and to reassure Baggies fans that he cares for the club.
Odemwingie's Twitter account also sees him pictured holding one of the newspaper articles in which Hodgson made his comments, but the Albion manager insisted he had never questioned Odemwingie's desire to play for West Brom.
"If I thought he was malingering I would say so," Hodgson said.
"Interpretations are interpretations.
"It's been frustrating for us, having one of your best players out for a long period of time.
"We've been encouraged to think he'll be back a little bit earlier and of course that is also frustrating when it doesn't come off.
"This week was fine, he's got back, he's training, and he'll be available for the game on Saturday, which is great news."
The former Liverpool boss added that the affair has not damaged his relationship with Odemwingie - although he conceded that he could not speak for the player on the matter.
"I wasn't even aware of it [Odemwingie's response on Twitter] - that's how much it has affected my idea of our relationship," said Hodgson.
"But I haven't put anything on social networking sites so you'll have to ask him if it's damaged his perception of our relationship.
"I think he's very good player and I'm pleased to have him back."
Despite Hodgson's disinterest in social media sites, the 64-year-old insists he will not be following the lead of other managers by cracking down on players' communications.
He said: "I don't read them, I don't follow them, and I suppose I'll adopt the tolerant view that whatever players want to put on their own sites, they can put on them - it doesn't affect me one bit."
Odemwingie is not the only injury boost for West Brom ahead of their Premier League clash with Tottenham at the Hawthorns.
Fellow striker Shane Long should be available after a leg injury picked up in training this week, while midfielder Paul Scharner has recovered from a knee problem.