Aluko unfazed by pressure
Sone Aluko has no worries about rising to the occasion after 'making sacrifices' to seal a move to Rangers this week.
Last Updated: 25/11/11 8:53pm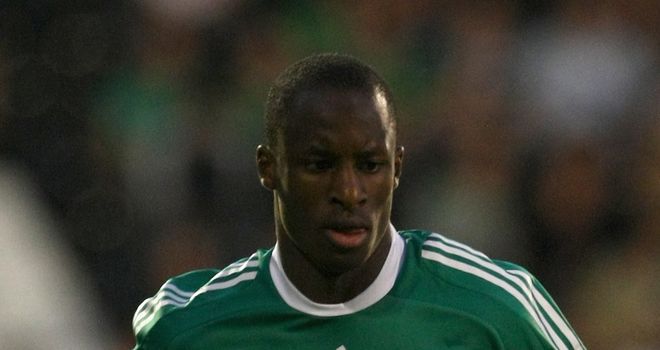 Sone Aluko has no worries about rising to the occasion after 'making sacrifices' to seal a move to Rangers this week.
The former Aberdeen winger, 22, put pen to paper on Thursday after impressing while on trial and could make his debut in Sunday's SPL clash at Kilmarnock.
And he has vowed to make an impact by scoring goals and helping Rangers' strikers boost their own tallies for the season.
Aluko said: "I like playing under pressure. That's the kind of player I am. I thrive under pressure in big games.
"I'm putting myself under pressure to get into the team and keep my place.
"I like scoring goals and part of my job is to create goals so hopefully I'll get Nikica Jelavic and Kyle Lafferty and the other boys more goals.
"I'm just another attacking option for the team, really."
Aluko personally contributed towards the compensation paid to former club Aberdeen in a bid to secure the switch to Rangers.
He explained: "The truth is that in any negotiations, whether it be football, business, any walk of life, somebody has to make some compromises and sacrifices.
"I made some sacrifices and made some decisions basically just so I could play football again.
"There is a negotiation and in any contract you are going to get a set amount. I'm not going to get all of that now because I made some compromises.
"That's basically it. The original agreement with Rangers is now re-negotiated."
Excited
Asked if the deal would have fallen through had he not stepped in with his own cash, he added: "Potentially.
"I didn't want to get to the point where that was going to be the case so it was either let it drag on and go through tribunals and legal stuff or just be reasonable about it.
"I'm happy to be here. Rangers tried hard to get me here and I tried everything in my power to get here.
"I feel good, I feel excited. I just want to get on with it and play games and get used to doing what I normally do every day."
He refused to criticise his former club, who he quit when his contract expired in the summer, for chasing compensation.
Committed
He said: "Aberdeen believed they had a case and they have to look after their own club and their side of things.
"I have to look after myself and Rangers have to look after themselves. But eventually we got it done and I'm happy with that."
Aluko has signed on until the end of the season, with an option of a further two years, and has plenty of belief in his own ability to impress at his new club.
He said: "I always believe in myself. I think I have to believe in myself for anyone else to believe in me.
"It just shows that I am committed and I do believe I can offer something to Rangers and that's what I will try to do."