Wenger - Gervinho is best buy
Arsene Wenger says Arsenal's Gervinho is one of the best signings in the Premier League this season.
By Hayley Paterson
Last Updated: 26/11/11 12:22pm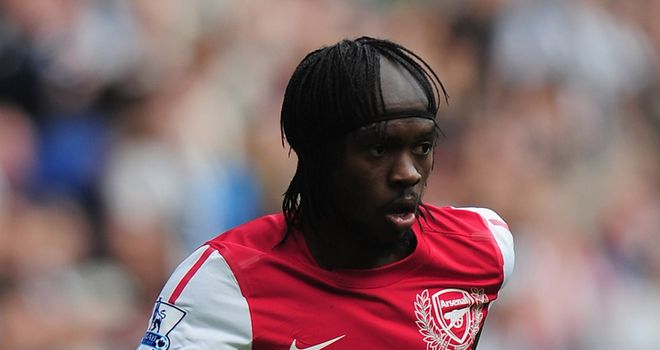 Arsenal boss Arsene Wenger believes Gervinho is one of the best signings in the Premier League this season.
The £11million capture from Lille boasts some impressive statistics in England since his transfer from Ligue 1 with five assists, creating a chance every 39 minutes.
However, of those nine league games the Ivory Coast forward has netted just twice for the Gunners - a strike-rate that has come in for some criticism.
But Wenger is far from worried about the 24-year-old and instead insists Gervinho has been "absolutely fantastic" since settling into North London life.
"I think he is one of the best signings in the league so far. At the moment, Gervinho is a fantastic provider but he also creates space for the other players because he always goes behind defenders," Wenger told the Daily Mirror.
"The problem with Gervinho is that he is in the opposite position of Robin van Persie. He is desperate for a goal and it's difficult once you are in that situation.
"You could see the other night he had the chance to score but players can start to think too much.
Not obsessed
"For a long time you don't talk about it, but at some stage you have to say, 'Don't worry - try to be natural'. I spoke to him today about that, but he is not obsessed with scoring goals, it will come.
"When you start to think you are already finished but the rest of his game is absolutely fantastic.
"He works hard for the team, provides, creates space and makes great runs and I'm personally very happy with his game."
Gervinho, who recorded the most assists in French top-flight last season and scored 15, will be missing for Arsenal at the start of 2012 when he is due to play in the African Nations Cup along with club team-mate Marouane Chamakh who will be lining up for Morocco.
Boosted
However, Wenger has been boosted by the fact that Alex Song will be available after Cameroon failed to reach the finals.
The 24-year-old has grown in stature for his new club following a torrid start to his Arsenal career back in 2006.
"He had periods when he had doubts in his mind, when people say he was a bad buy, when you are a young boy that is difficult to take, but Alex has got over that," said the French tactician.
"Either you play somebody or you don't. That is the best way to show confidence in a player."