Appleton praises Schmeichel
Michael Appleton praised Kasper Schmeichel after Portsmouth were held to a 1-1 draw as Nigel Pearson urged Leicester to 'raise the bar'.
Last Updated: 26/11/11 6:38pm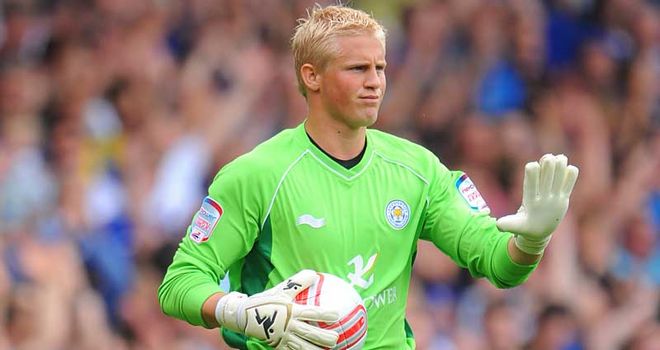 Michael Appleton praised Leicester City goalkeeper Kasper Schmeichel after Portsmouth were held to a 1-1 draw as Nigel Pearson urged his team to 'raise the bar'.
New Pompey boss Appleton secured his first point in charge after David Norris' goal midway through the second half was cancelled out by former Portsmouth striker David Nugent.
However, the hosts were denied an opening goal early in the second half following Schmeichel's save from Dave Kitson's header and Appleton was disappointed not to claim all three points.
He said: "I think we were a little bit disappointed we didn't win the game. We made their keeper produce one of the best saves I have seen in a very long time (from Kitson).
"To then hit the post and see him have to produce another fantastic save was pleasing from our point of view because we responded well to losing a goal. But the importance of the saves was there for all to see."
Belief
Appleton admitted his side lacked belief in the opening 45 minutes, adding: "It took a while to get going and I think both sides played a bit safe in the first half.
"At half-time I told the players to have a bit more belief in the final third. I didn't think we took enough risks in the first half.
"Everyone seemed to play the safe pass and didn't want to take responsibility. I mentioned about people taking responsibility after the game last week (at Watford).
"I felt we did that in the second half. We looked more of a threat and we looked as if we could score goals."
Competitive
Promotion-chasing Leicester manager Nigel Pearson admitted failing to win games like this will hurt his side's chances of earning a place in the Premier League.
He said: "Ultimately, we need to raise the bar somewhat and strive to win tight games like this.
"The fact we have been waiting for back-to-back wins for a considerable time shows why we have not really asserted ourselves on the league yet.
"When we conceded the goal, we were fairly comfortable, so that was disappointing. But the players showed really good courage and application to get back into it."
Pearson added: "If you look at the league results, there were some bizarre ones. It shows you just how competitive this league is and how difficult it is to be consistently good. That's the challenge ahead."