Fletcher slams midfield critics
Darren Fletcher has slammed Manchester United's midfield critics by insisting they have enough creativity.
Last Updated: 27/11/11 4:22pm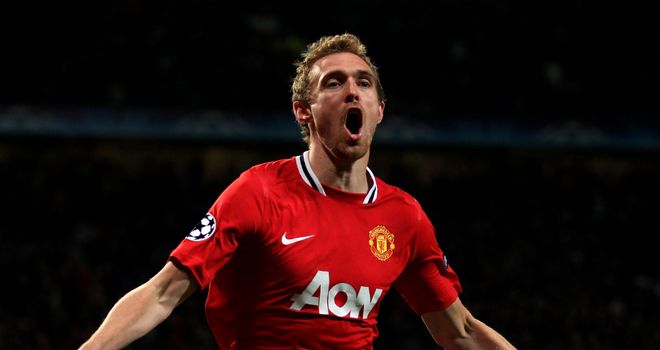 Darren Fletcher has slammed Manchester United's midfield critics by insisting the Red Devils have enough creativity to continue winning trophies.
The Scotland star insists he does not understand the 'fuss' after United's quality in the middle of park has come under increased scrutiny.
United have been criticised for failing to fill the creative void left by Paul Scholes' retirement after their doomed pursuits of Wesley Sneijder and Luka Modric.
Fletcher, 27, believes Old Trafford legend Scholes is irreplaceable but still reckons Sir Alex Ferguson has enough midfield talent at his disposal to win silverware.
And he points to the fact defending Premier League champions United still challenged for domestic and European honours without the influence of Scholes every game last season.
Flair
Fletcher said: "We've got quality midfield players and I don't see what all the fuss is about.
"We have been successful with the midfield and the squad we've got.
"I'm not going to say it's an insult for people to suggest we don't have enough flair or creativity in midfield because they are entitled to their opinion and are going to say whatever they wish. We can't control that.
"If we start thinking about that then it's obviously going to affect us on the pitch.
"We've been at Manchester United long enough to realise that criticism is always going to be there. It's part and parcel of the job.
"But we have got players who create in wide areas, in forward ones and in midfield as well.
Abilities
"We're fully confident in our abilities and what we bring to the team and what we've been doing at United for many years."
He added: "You can't replace Paul Scholes, no matter who you sign because he was that good.
"But there were times last season when Scholesy didn't play and we still won the league and reached the Champions League final.
"People should look at that as well."