Enrique - Tiredness no excuse
Jose Enrique insists playing twice in 48 hours can be no excuse if Liverpool are knocked out of the Carling Cup by Chelsea.
Last Updated: 28/11/11 4:09pm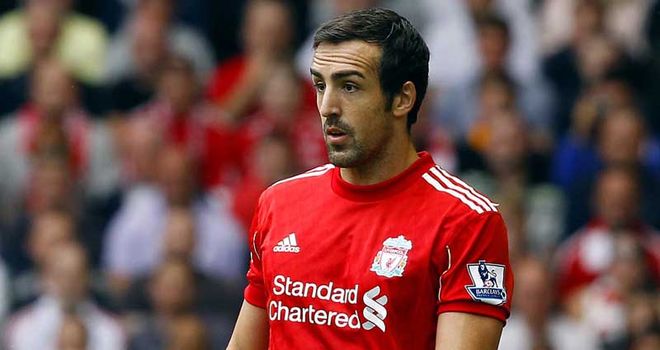 Jose Enrique insists playing twice in 48 hours can be no excuse if Liverpool are knocked out of the Carling Cup by Chelsea, after manager Kenny Dalglish described the scheduling as 'irresponsible'.
Liverpool drew 1-1 at home with Premier League leaders Manchester City on Sunday and travel to Stamford Bridge to take on Chelsea in the cup quarter-final on Tuesday.
Reds boss Dalglish is likely to make several changes for the game and Enrique is disappointed that a compromise regarding the schedule could not be reached.
However, the left-back will not point to fatigue as a reason for any failure to reach the semi-finals and he would be happy to start again in West London.
No excuses
"If the manager decides I have to play, I play," said Enrique.
"The Premier League and Football League didn't make a good decision.
"We played on Sunday and have to play in another 48 hours, whereas Chelsea played on Saturday. This is not normal. It just happens in England.
"It is no good for us because we play against Chelsea away and it is hard to win, and normally when you play 48 hours after a game you are more tired.
"But there will be no excuses. We can still win there and will try to get that win."
The Premier League was reluctant to bring the league match against City forward because of concerns it would cause major inconvenience to fans at short notice.
Also the Metropolitan Police could not sanction a move to Wednesday because of a Trades Union Congress rally taking place in central London that day and Tottenham's Europa League game at home to PAOK Salonika.
Joke
However, Dalglish told Liverpool's official website: "Forty-eight hours is a bit irresponsible for the people who've organised the dates of the matches. It's not just us, it's Man City.
"To ask any team or any players to play two games of high intensity in 48 hours is a bit of a joke.
"I don't know why the PFA (Professional Footballers' Association) don't come in and say something about it - it's their players. For me it's difficult to understand why they don't come out and say something. Or do they agree with it?
"We know we've got to accept it although we don't agree with it, and it won't affect the application or give us an excuse.
"There'll be one or two bumps and bruises I would have thought, and maybe one or two missing, but we have a strong squad and we've made changes in other Carling Cup matches."