Ward eyes Sunderland win
Wolves midfielder Stephen Ward is aware of the importance of their home clash with Sunderland at the weekend.
Last Updated: 28/11/11 4:19pm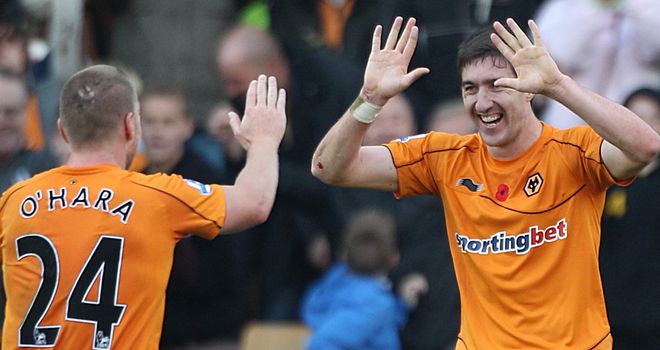 Wolverhampton Wanderers midfielder Stephen Ward has underlined the importance of their home clash with Sunderland at the weekend by claiming that it is a "six-pointer".
Wolves are currently a place and two points above the relegation zone in the Premier League, level on points with the Black Cats, who are 16th.
Mick McCarthy's side suffered a 3-0 defeat to Chelsea in London on Saturday but Ward is confident of bouncing back given their impressive performance in the second half at Stamford Bridge.
"We have got used to big games like this over the last couple of years so we're well used to it," the 26-year-old told the Birmingham Mail.
"We've got three out of four games at home now and will set our sights on picking up some points.
Vital games
"The next few games are vital for us because you have to get points from teams around you.
"We didn't get enough from teams around us last year and had to beat some of the top teams just to stay up but they don't happen very often!
"Sunderland is massive and it's the old cliché of a six-pointer. We're at home in front of our own fans and we'll look to get the points.
"We believe we can get points from anyone at home. The second-half performance at Chelsea showed a bit more pride and what we are about.
"At half-time everyone was disappointed but we have to take the positives."
Ward, who is a versatile player and can operate in defence, midfield and attack, also acknowledged the support of Wolves' fans especially away from home.
Fans
"At the end of the day we have got a group of travelling fans who had come down to support us and we had let them down," he continued.
"They follow us the length of the country and we were disappointed mostly for them.
"They pay a lot of money to come and watch us and we wanted to try to give them something to shout about in the second half.
"We can say we didn't concede in the second half, although people will say the game was dead and buried.
"We have seen teams come here and get done five, six and seven from that position so it was important we did show a bit of spirit in the second half.
"Hopefully the fans could see we did have a right go at it in the second half."