Brunt laments Spurs loss
West Bromwich Albion captain Chris Brunt has lamented his side's 3-1 home defeat to Tottenham Hotspur on Saturday.
Last Updated: 29/11/11 5:43pm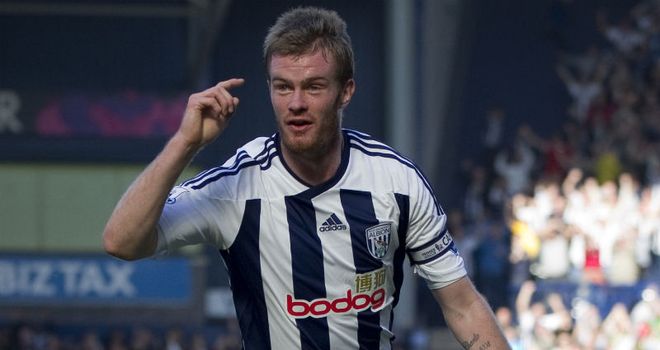 West Bromwich Albion captain Chris Brunt has lamented his side's 3-1 home defeat to Tottenham Hotspur in the Premier League on Saturday.
The Baggies lost the game at the Hawthorns despite taking the lead after just 10 minutes and are now five points above the relegation zone in 14th.
Brunt is understandably frustrated with his team's performance against Spurs and believes that they should have taken maximum points.
Deserved to win
"We're disappointed with Saturday's result," Brunt told his club's official website.
"We thought we deserved to win the game but Spurs have that bit of quality and it paid off for them in the end.
"Adebayor scored two goals and his flick set up the second goal. That came in a period when we were doing well in the game.
"In the first half I thought we were very good and the penalty knocked the stuffing out of us again. I should at least have hit the target with my chance.
"Mozza (James Morrison) did well to pull it back, it sat up well, and I just tried to get good contact on it. I probably got too good a contact on it - that's the best way I can describe it.
"It was pretty close - but that doesn't mean anything! It shows you how fine the difference is between winning and losing."
QPR clash
West Brom's next game is against Queens Park Rangers at Loftus Road on
Saturday, and Brunt is hopeful of securing a win on their trip to London.
"I've been there twice with West Brom and the results were very different," he stated. "I managed to get on the scoresheet both times, which is pleasing.
"I also scored there the time before that with Sheffield Wednesday.
"I've got a couple of grounds like that in my career - I've scored a few goals at Coventry as well.
"It's always nice to score but the result is the main thing.
"They've started the season well as a newly-promoted side after adding a lot of new faces in the summer.
"We know it's not going to be easy. It's always a difficult place to go being a tight ground and the atmosphere is always pretty hot.
"It will be a tough game but one we're equipped to deal with."