Europa no burden to Kayal
Celtic midfielder Beram Kayal has no concerns about his side's European adventure being a distraction to their domestic campaign.
Last Updated: 29/11/11 6:42pm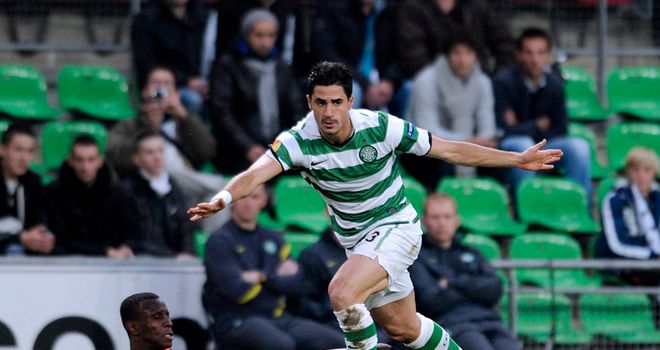 Celtic midfielder Beram Kayal has no concerns about his side's Europa League campaign detracting from their efforts in the Scottish Premier League.
The Hoops have hauled themselves back into the title race after slashing leaders Rangers' advantage at the summit from 12 points to just four in the space of nine days thanks to wins over Inverness, Dunfermline and St Mirren.
The Glasgow club will now turn their focus to European competition and the visit of Atletico Madrid as they aim to secure the win that will keep alive any realistic hopes of progressing from Group I.
And Kayal sees no reason why they cannot impress on all fronts.
Big squad
Asked if their league campaign could be derailed because of European commitment, he said: "I don't believe that will happen because we have a big squad and big players here.
"We have players who can play in Europe and players who can play in the league.
"We have a big team and now we have the injured players coming back.
"I'm so happy that they are back to help the team win games and do well in the league.
"All the focus for the players, the fans and everyone at the club is to do the maximum and win games.
"We want to win everything - the league and the cups. We want to work hard in every game and do the job."
European adventure
Celtic sit third in Group I with five points from four matches, two points behind Atletico and Udinese in first and second respectively.
Looking ahead to Wednesday's clash, Kayal said: "It is an important game for the club.
"Everyone in the squad and the fans know that. Every game is important for this club.
"If we win this game we have a chance to continue in Europe. We will try to do the maximum tomorrow and win the game."
Celtic suffered a 2-0 defeat in Madrid in their opening group match but Kayal believes they have improved greatly since then.
"The first game was different because it was the first game for a lot of the players in Europe," stated the 23-year-old.
"Now we have the confidence to play in Europe and we have the experience after three or four games.
"We need a good result tomorrow for us to continue in Europe."