Mancini - Nasri can improve
Roberto Mancini admits Samir Nasri can 'improve a lot' after the Manchester City midfielder was booed on his return to Arsenal.
Last Updated: 30/11/11 8:08am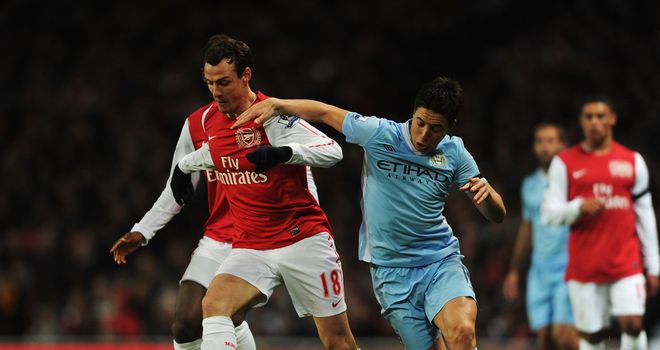 Roberto Mancini admits Samir Nasri can 'improve a lot' after revealing he wanted the Manchester City midfielder to experience the boos on his return to Arsenal.
Nasri left the Gunners for City in the summer, but he has yet to establish himself as a regular in Mancini's starting line-up.
He was picked for Tuesday's Carling Cup quarter-final at his former club and the France international was jeered by Arsenal fans with every touch.
The 24-year-old also struggled to impose himself on the game and Mancini acknowledged there is plenty more to come from his big-money signing.
However, with City due to return to Emirates Stadium later in the season, Mancini wanted Nasri to sample any reaction from Gunners supporters as soon as possible.
Top player
"He can play better because he is a top player," said Mancini.
"I think that he can improve a lot but it was the same situation with players who arrived last year like Edin (Dzeko) and David (Silva).
"It (the win) is not important for him, it is important for the team. For him it is better that he played tonight so when he comes back to play here in the league he knows what will happen."
Meanwhile, an Arsenal spokesman has confirmed there was a row between Nasri and former team-mate Emmanuel Frimpong in the tunnel after Tuesday's 1-0 win for City.
A spokesman told the Daily Telegraph: "Words were exchanged. There were no punches thrown.
"There was a lot of noise. Samir was talking in French, Manu wasn't. It was handbags.
"There were words and that happens after most games."